Forever Snocade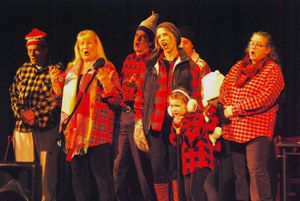 Saturday, February 22, 2020 at 7 p.m. at the Indian Lake Theater
The Indian Lake Theater is located at 13 West Main Street, Indian Lake, NY.
Tickets are available to purchase through the Arts Center online or at the door.
Ticket Prices: $10 for Adults and $5 Youth 17 and Under
Forever Snocade (an offshoot of our famous Forever Wild production) is a variety show all about the Adirondacks and how we enjoy and/or survive the winter! Come support our local actors, directors, choreographers, writers, singers and even dancers - we promise they'll have you laughing out loud!

If you are interested in planning or performing, please contact Jamie Strader or Jen Bine. All ages and abilities are welcome!
SAVE THE DATE!
Woodchoppers' Ball - ALCA's 2020 Winter Benefit
Saturday, March 28, 2020 from 6-10 p.m. at the Adirondack Hotel in Long Lake
This year's winter benefit will mark the return of the Woodchoppers' Ball! Please join us for an evening of leisurely dining and dancing at the Adirondack Hotel.
Check back for more details!