Given the ever-changing nature of the COVID-19 health crisis, we must postpone our opening date for the 2020 season from May 1. We have not set a new date at this time. We will continue to monitor the situation closely and when we can safely do so, we will announce an opening date. In the meantime our staff is hard at work coming up with innovative ways to deliver our programming to you through our website and social media platforms. Please check our Facebook page and website for updates!
POSTPONED TO A LATER DATE - TBD
Woodchoppers' Ball - ALCA's 2020 Winter Benefit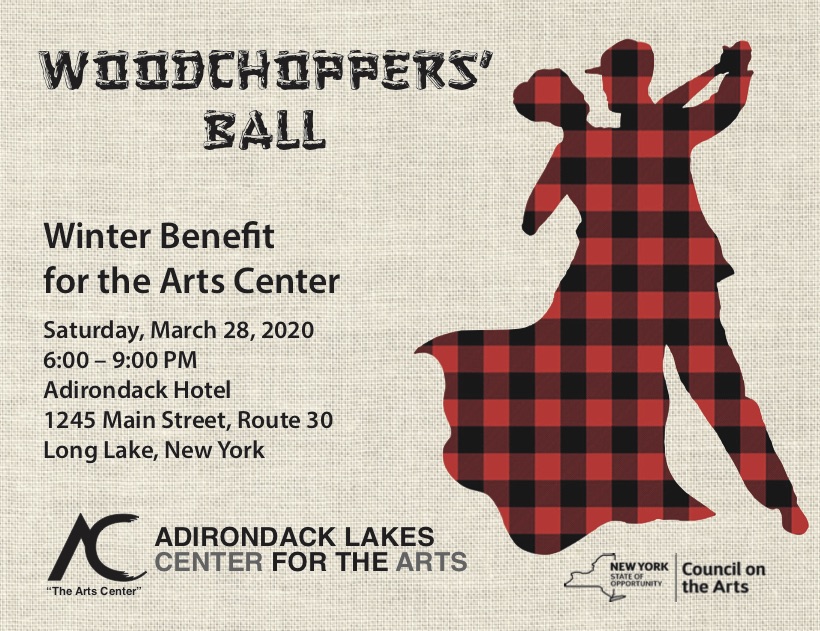 POSTPONED TO A LATER DATE - TBD
AC Spring Cleaning
Join Arts Center staff, board members, and volunteers in opening the Arts Center for the 2020 season!
Tipsy Tea and Purse Party
Saturday, May 30, 1 - 4 p.m. at the Indian Lake Restaurant
The Indian Lake Restaurant is located at 6296 NY-30, Indian Lake, NY.

More information to follow.
Annual July 4 Auction and Yard Sale
Saturday, July 4 at the Arts Center - SAVE THE DATE!
9 a.m. - 1 p.m. -- Yard Sale
9 - 10:30 a.m. -- Live Auction Preview
10:30 a.m. - 12 p.m. -- Live Auction
Dinner and Arts Center Performance at Great Camp Sagamore
Saturday, August 15 (time TBA)
Stay tuned for more details!