Forever Snocade
Saturday, February 22, 2020 at 7 p.m.
Indian Lake Theater
Forever Snocade (an offshoot of our famous Forever Wild production) is a variety show all about the Adirondacks and how we enjoy and/or survive the winter! Come support our local actors, directors, choreographers, writers, singers and even dancers - we promise they'll have you laughing out loud!



Soup Social and Holiday Sing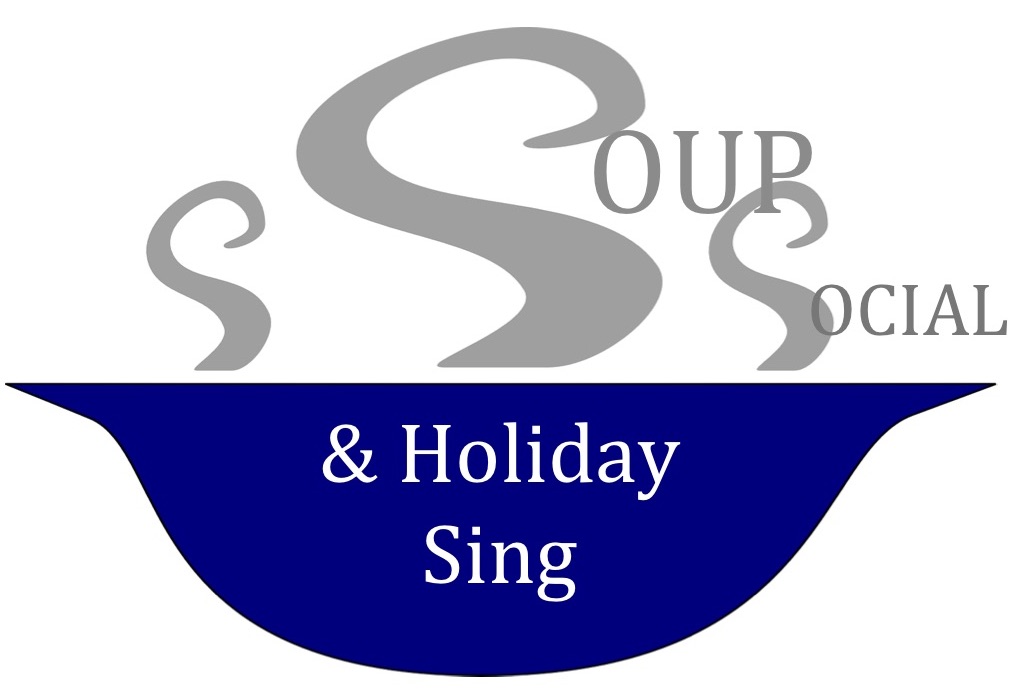 Saturday, December 7, 2019 at 5 p.m.
Bring your favorite soup, chowder, or chili to share with friends of the Arts Center. Desserts and dipping breads are also welcomed! Enjoy great food, family fun, and festive holiday music. The event is free and everyone is invited. For additional information, please contact christine@adirondackarts.org or call the Arts Center at 518-352-7715.
Day of the Dead Celebration
Saturday, November 2, 2019 from 4 - 6 p.m.
Join us in celebrating the last day of Dia de los Muertos! We'll have sugar skull decorating, face painting, and Mexican snacks and drinks! Festive wear and skeleton attire is encouraged.
Pendragon Theatre Presents the Critically Acclaimed Comedy, Athena at the Arts Center
Friday, November 1, 2019 at 7:30 p.m.
Athena, directed by the theatre's Artistic Director, Kimberley Bouchard and featuring Rachel Kemp and Cammie Marshall, is a coming of age comedy about the rivalry and friendship of two teenage athletes. Mary Wallace and Athena are brave, and seventeen, and fencers, and training for the Junior Olympics. They practice together, they compete against each other, they spend their lives together and they wish they were friends.
According to director Bouchard, she was first attracted to the play by the title, Athena. "Athena is one of the goddesses I have been fascinated by since I was a child. Born from the head of a male god! The goddess of War and Wisdom and the Arts! Wow! What a super-woman!
After reading the play Athena I was enthralled by the story of these two young women athletes as they discover their power, their strength and their vulnerabilities. As a young woman growing up before Title IX, I was an athlete with few opportunities to engage in competitive sports. During high school, I took up fencing at the local college with a girlfriend who felt the same lack in her life. Fencing was our outlet for a yearning we had to be capable, strong and legitimately competitive. We loved it." Bouchard continues, "With the tremendous and beautiful competitive spirit of the Women's World Cup Football this summer, I felt that bringing to the Pendragon stage this play, that celebrates and humanizes young women athletes, was a very fitting choice for our Fall Play and for the touring show to schools."
Actors Rachel Kemp and Cammie Marshall play highly competitive teen fencers and have been training to fence for the roles with champion fencer, Viveka Fox. Fox is head coach of the Vermont Fencing Alliance, a former all-Ivy fencer and North Atlantic women's foil champion and, in 2019, qualified to represent the US in age 50-60 womens foil at Veteran World Championships for the second time.
"HOT! The Music of Cole Porter"
Saturday, September 21, 2019 at 7:30 p.m.
Seagle Music Colony is the oldest summer vocal training program in the United States and the premier opera and musical theatre producing organization in the Adirondack region of upstate New York. In 2019, Seagle Music Colony will celebrate its 104th Anniversary Season. "HOT! The Music of Cole Porter" is a wonderful ride through some of the most familiar tunes by this master of song! With songs like "I Get a Kick Out of You", "Night and Day", "Anything Goes" and many more you'll be dancing in the aisle and know why this show is "Too Darn Hot!"
2019 Great Arts Benefit at Great Camp Huntington on Raquette Lake
Sunday, August 11, 2019 from 3 - 6 p.m.
Please join the Arts Center on Sunday, August 11, 2019, from 4 to 7 p.m. for our annual Great Arts Benefit – a truly memorable event at Camp Huntington, also known as Camp Pine Knot, a national historic landmark. The benefit includes a tour of four historic buildings. Please note this is a boat access only event. The last boat will leave at 4:30 p.m.
Annual Board Meeting and Community Charette
Thursday, July 11

, 2019

at 4:30 p.m.
Public Invited
Join the Arts Center's Board of Directors and Staff to learn about the organizations most recent developments. Participate in the Community Charette (defined as: a public meeting or workshop devoted to a concerted effort to solve a problem or plan the design of something) regarding the future of the building and the Arts Center's efforts to establish an endowment fund. The meeting is open to the public.
Annual July Yard Sale and Auction
Friday, July 5, 2019 starting at 9 a.m.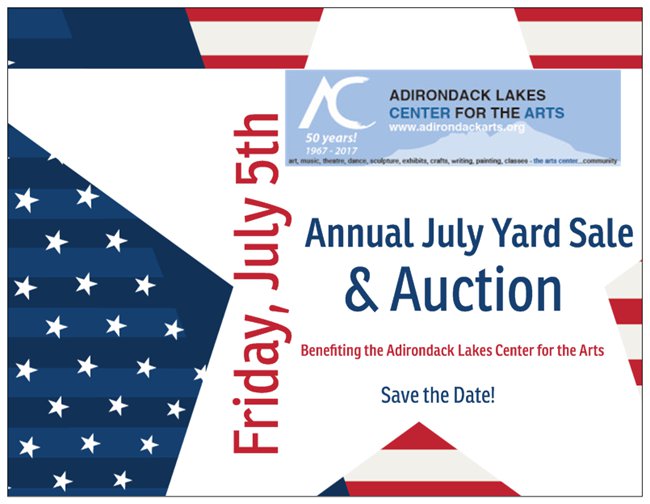 Tipsy Tea and Purse Party at the Indian Lake Restaurant
Saturday, May 18, 2019 from 1 - 3 p.m.
The Tipsy Tea and Purse Party is a way to come together at a themed party to have fun and purchase new or upcycled purses, or to just have fun and enjoy good food and company. Your ticket includes a variety of teas, 1 adult cocktail, and a luncheon featuring delicious finger sandwiches and desserts.
2019 Winter Benefit for the Arts Center
Thank you to all of our members and supporters who attended the Arts Center's Annual Winter Benefit on March 9, 2019. We are so fortunate to have such a generous and dedicated community that continues to support the Arts Center year after year. We also want to thank our hosts, the Hosley family and staff at the Long View Lodge! Stay tuned for information on our next Summer Benefit!