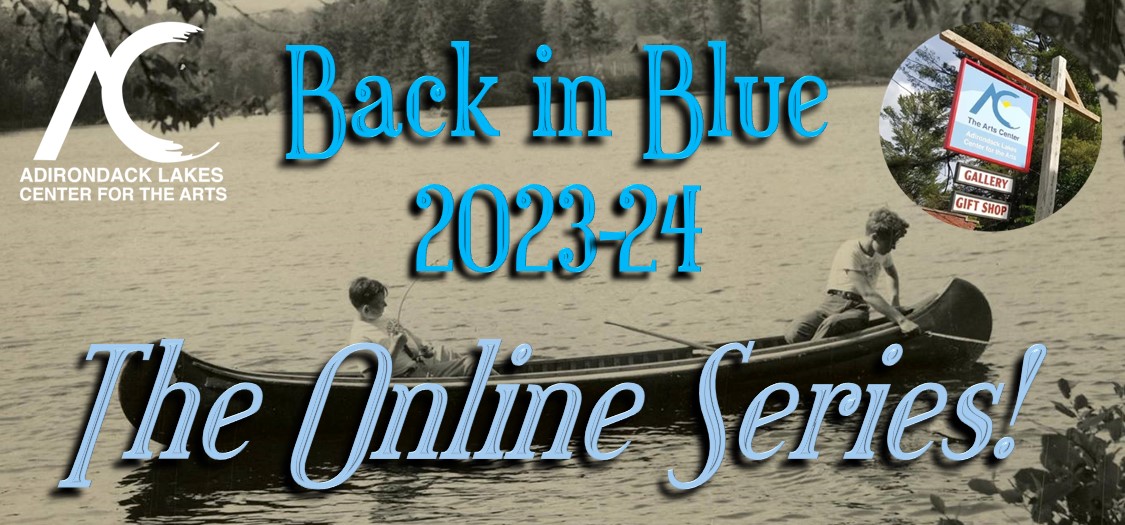 BACK IN BLUE: THE ONLINE SERIES
Relive the magic of Arts Center performances in a virtual format!
Enjoy concerts and theatre productions from our 2023 season, along with a preview of the upcoming 2024 production of The Cure: An Adirondack Story by North Country playwright Frederic Glover! New installments will be uploaded every other Saturday through 2023 and early 2024.
Arts Center's Back in Blue: the Online Series to return in November, featuring 2023 performance highlights and preview of play
BLUE MOUNTAIN LAKE, NY — The Adirondack Lakes Center for the Arts (ALCA) announces the return of its virtual programming with the 2023-2024 lineup of Back in Blue: The Online Series! From November through February, video recordings of performances from the Arts Center's 2023 season will become available to view on ALCA's YouTube Channel.
Uploads will include highlights from the Weekend Series' rock and classical concerts, folk music from the Tuesdays@theAC series, and the abridged Shakespeare production of The Tempest. The series will also include a brand-new preview of the play The Cure: An Adirondack Story by North Country playwright Frederic Glover, scheduled to be part of the 2024 Adirondack Lakes Theatre Festival.
The first installment of the Online Series will be the June 2023 production of Forever Wild!, a song-and-skit show about the quirks of Adirondack living, and will be available to view on Saturday, Nov. 4. Subsequent installments will be available online every other Saturday through the fall and winter, with links to the videos on the Arts Center's website. Stay tuned for more information and the complete series lineup on our website, adirondackarts.org.

Enjoying access to Arts Center concerts and theatrical performances?
Show your support by making a donation today!
Donate to the Arts Center

---
FOREVER WILD!
Recorded June 16 & 17, 2023
The hilarious song & skit show performed by your Adirondack neighbors, directed by Karen Butters.

Forever Wild! 2023 program

The Musty Cupboards
Recorded June 27, 2023
An acoustic quartet performing bluegrass and classic folk.
Michelle Schwelling on drums, guitar, mandolin, ukulele, and vocals; Eric Schwelling on guitar and vocals; Wayne Davison on bass; Evan Behre on mandolin, banjo, dobro, guitar, and vocals; and Becky Behre on accordion and vocals.

Artist Presentation by Don Wynn
Recorded July 16, 2023
Blue Mountain Lake artist Don Wynn presents a slideshow discussion covering his work dating back from 1967 to present day, as part of Don Wynn: An Exhibition Marking the 50th Anniversary of his First Show at ALCA.
---
Looking for more? Check out the 2022 Back in Blue: Online Series!