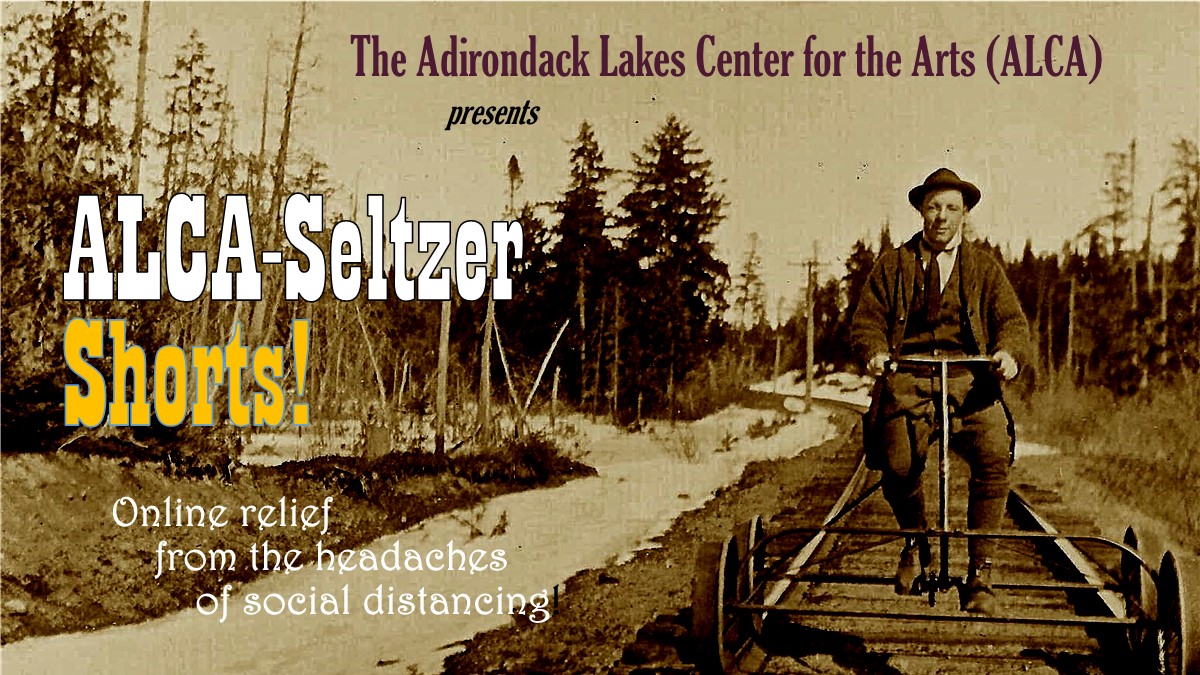 Bettman & Halpin, It All Comes Down to Love

A song and personal message for Arts Center supporters from the wonderful Colorado-based duo Bettman & Halpin. Stephanie and Luke, who are, in their words, "joyful Americana folk singer/songwriters," were scheduled to perform and present a songwriting workshop this summer before COVID-19 hit. They will now be part of our 2021 lineup! Check them out on Facebook: https://www.facebook.com/BettmanHalpin/
Bill Hall, the Black Fly Lullaby

Yep, it's now officially black-fly season in the Adirondacks, and just in time, here's Bill Hall with his "Black Fly Lullaby" to (hopefully) put them all to sleep! Bill is a folk singer/composer born in Newcomb, NY. He has recorded three albums of original songs and published one book to his credit! Hear more of Bill's music at bill-hall.com. Thanks for being part of our series, Bill!
Fiddler Gretchen Koehler
Fiddler Gretchen Koehler from her home in Potsdam, NY, with a personal message and TWO fantastic fiddle tunes, "Booth Shot Lincoln" and "Le Violon Accordé Comme une Vielle." Gretchen is a fiddler with an atlas of musical styles at her fingertips. Her left hand has a fierce Irish brogue, her bow arm provides a distinct American Old Time drive while her feet hammer out accompaniment on the floorboards in typical Quebecois style. She last appeared at the Arts Center in 2018 with pianist Daniel Kelly as part of our 50th Anniversary concert lineup. Hear more at http://www.gretchenkoehlermusic.com/.
The Rustic Riders
The Rustic Riders are Lisa and Klaus Meissner of Saranac Lake, NY (formerly of Coreys). In their own words, they "craft their sound with music old and new. They invite you to sing, move, reflect and renew with voice, strings and percussion." This song, "Listen," was recorded at their home studio as they are social distancing like the rest of us. They have performed throughout the Adirondacks (they were part of the Arts Center's "Tuesdays@theAC" series in 2017) and are currently planning on releasing a new album! For more of their music, go to their website: https://rusticriders.net/home
Bob Stump and his Band
From a 2017 concert at the Arts Center (our 50th Anniversary season), Bob Stump and his Band performing the classic Bill Monroe tune "Blue Moon of Kentucky." It was a warm evening, but fans kept the crowd cool as Bob and the band kept the music hot!
Don't forget to visit our YouTube Channel and subscribe: ALCA YouTube Channel. To view videos of past Arts Center performances, go to https://www.adirondackarts.org/videos.
______________________________________________________________________________________________