_______________________________________________________________________________


Thanks to all who attended our 2022 Great Arts Benefit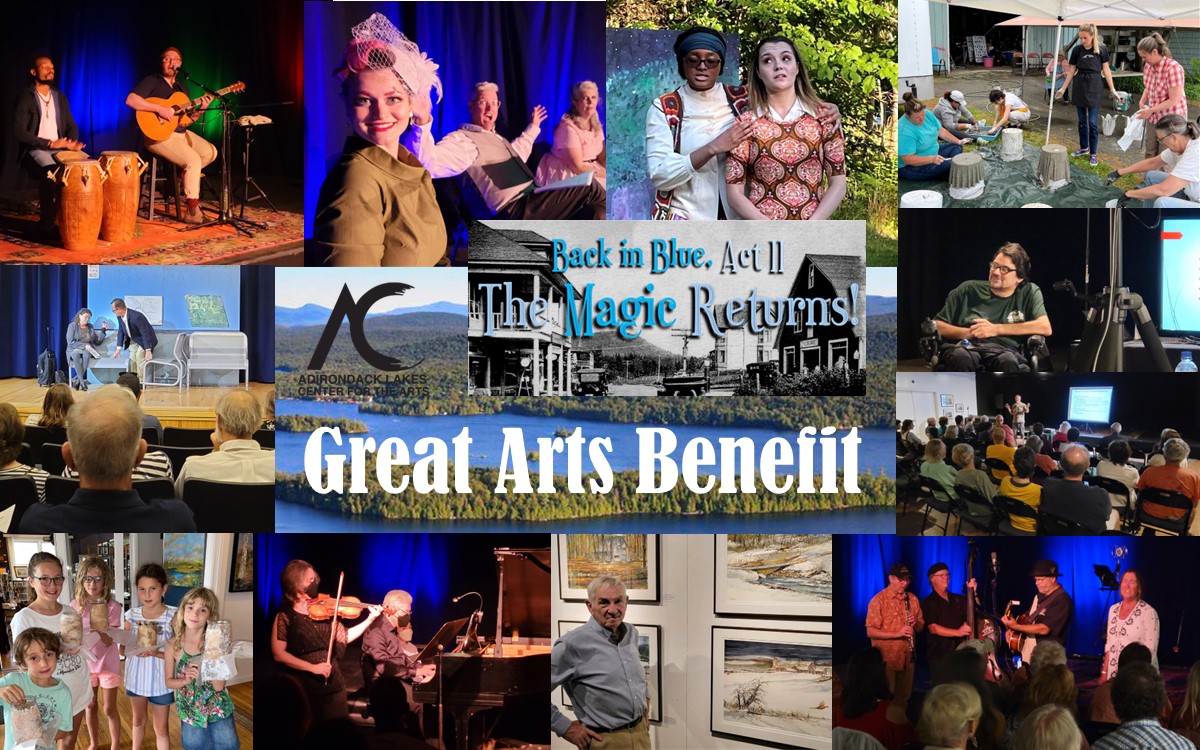 Click the image above to see the list of our attendees!
_______________________________________________________________________________
End-of-season message from our Artistic General Director
Now that we have closed the doors of the Arts Center for another season, we look back at
the whirlwind of live performances, lectures, workshops, and art exhibits we were able to present
in 2022 and realize we've come a long way in the past two years! We called our return to live
programming in 2021 and 2022 "Back in Blue: The Magic Returns!", and it continues to feel
magical to have performers, artists, audience, and other visitors back at the Arts Center.
Highlights of our 2022 Weekend Series included a return by both Ryan Leddick and
Alex Smith with their jamming partners, concerts by Ingolfsson-Stoupel, Daurov/Myer,
the Sultans of String, Jamcrackers, Annie and the Hedonists, Phil Henry and the News Feed, and
of course legendary pianist Misha Dichter and his wife, Cipa. Our Adirondack Lakes Summer Theatre
Festival continued the magic with 2 Across, Beguiled Again, and Shakespeare's A Midsummer Night's Dream.
Along with our Members' Show, our gallery exhibits featured the work of 10 wonderful artists, with lectures by
Jason Thurston and Pete Nelson and workshops by Susan Rollings and Karen Butters. Bravi, tutti!
We want to thank all our sponsors who made this possible, especially the New York State Council on the Arts
for its generosity in helping the arts survive the Covid pandemic. Through the fall and winter, we will be presenting
the LIVE lectures, concerts, & theatre from our 2021 and 2022 seasons in a VIRTUAL format we are calling
Back in Blue: The Online Series! The first installment is already on our YouTube Channel for viewing,
Jason's lecture on accessibility in the Adirondacks.
We ended our season with a fun open-mic/karaoke party that celebrated the talent of our communities.
This is a feature we will be bringing back on a regular basis in 2023, along with a full line-up of our Weekend
Series, Summer Theatre Festival, and other programming, so – stay tuned, and thank you for a great season!
George Cordes, Artistic General Director

________________________________________________________________________________
Workshop Wednesdays
With Indian Lake Librarian and artisan Susan Rollings
Our workshops are now done for the season.
Stay tuned for a whole new lineup in 2023!
_______________________________________________________________________________