At the beginning of the COVID-19 pandemic, the Arts Center (ALCA) switched to virtual programming, our ALCA-Seltzer Series: Relief from the Headaches of Social Distancing. We produced video shorts, workshops, and full-length livestreams throughout 2020. Creating this series has provided entertainment, education, and connection for our audiences while the Arts Center itself remained closed.

Our ALCA-Seltzer Shorts have featured a wide range of musical genres and many talented Arts Center performers, both past and future. All of these videos are available to view on our website, or on the Arts Center's YouTube Channel. The Arts Center also produced and streamed full-length ALCA-Seltzer Streams throughout the summer and fall. These Streams will again become available in 2021.
In 2021, the AC will continue to present entertaining and educational virtual content through the ALCA-Seltzer Series, leading up to our planned reopening in June and return to live activities presented in a safe format, as restrictions allow. Stay tuned for more news about our exciting 2021 season!
George Cordes, General & Artistic Director

We postponed our 2020 Weekend Series to 2021. Stay tuned for our exciting lineup!

Saturday, June 27, 7:30 p.m. -- Anna Shelest (S
ponsored by Tony Zazula and Mark Chamberlain)
Friday, July 10, 7:30 p.m. -- Ryan Leddick's Concert and Album Release Event
Saturday, July 11, 7:30 p.m. -- Ivory & Gold (Sponsored by Tony Zazula and Mark Chamberlain
Saturday, July 18, 7:30 p.m. -- Richard Dowling (Sponsored by Tony Zazula and Mark Chamberlain)
Tuesday, July 28 -- Square Dance with Ron Gordon, Trish Miller & John Kirk (Sponsored by Mea Kaemmerlen and Bruce Butters)
Saturday, September 26, 7:30 p.m. -- Brillhart & Smith
---
Concerts in 2019: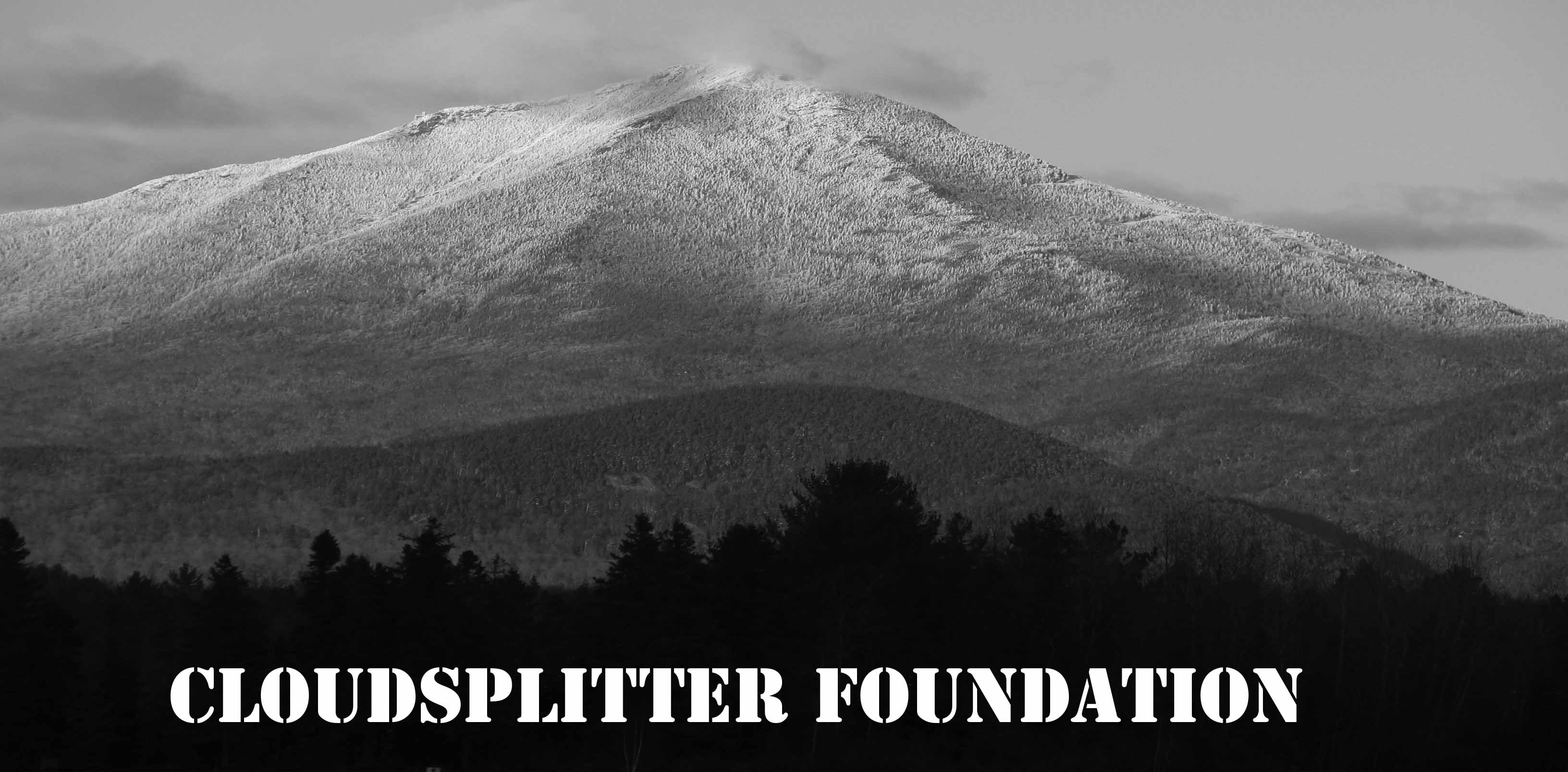 Sponsored in part by the Cloudsplitter Foundation.
Jay Ungar and Molly Mason
At the Indian Lake Theater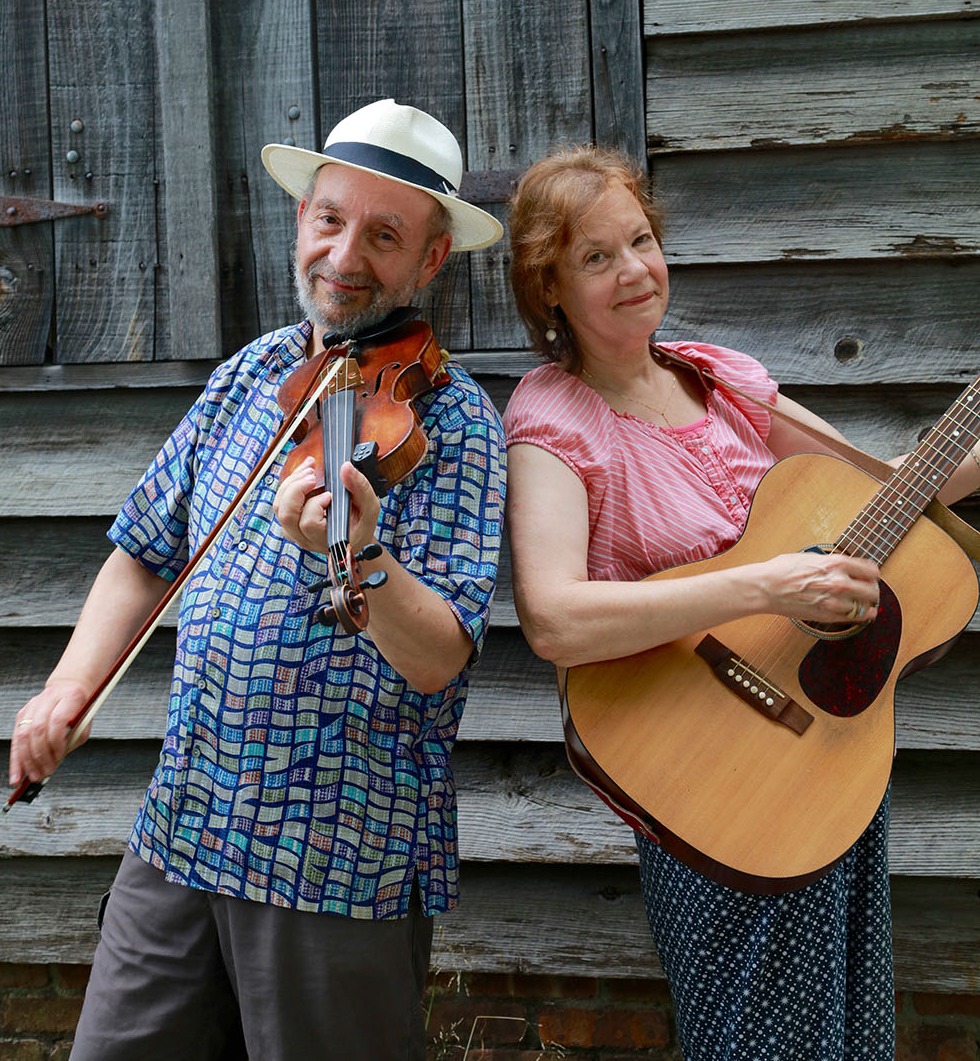 Saturday, October 26 at 7:30 p.m.
The Indian Lake Theater is located at 13 West Main Street, Indian Lake
Doors will open at 7 p.m. and the concert will start at 7:30 p.m.
Tickets are available to purchase through the Arts Center - in person, by phone, or online. If seats are remaining, tickets will also be available at the door on Saturday, October 26
He was a Bronx kid. She grew up in Washington State. He was raised on pop music of the 1940s and '50s. She had a fondness for traditional fiddle music and '30s and '40s popular tunes. He hung out in Greenwich Village coffeehouses and roamed North Carolina and Tennessee in search of traditional players. She played clubs and colleges on the West Coast and took a liking to the jazzy sound of the Swing Era. Since joining forces - both artistically and romantically (the two would marry in 1991) - Jay Ungar and Molly Mason have become one of the most celebrated duos on the American acoustic music scene.
Jay Ungar & Molly Mason are masters of music and storytelling who generously share their lives and their music with audiences. There are so many moments and strands to savor in the course of an evening of their music. Jay's fiddling is brimming with playfulness, drama, soulfulness and technical verve, as he explores the many musical styles and idioms that he has internalized and made his own. Molly's total mastery and inventiveness on piano and guitar is always spot-on, as she supports the tunes and follows the flow of the melody. Her rich and expressive vocals along with the resonant strains of Jay's violin, reveal the deep emotions that flow in the duos veins.
Millions were entranced by the music they did for Ken Burns' PBS documentary The Civil War. Their performance of the series' signature tune, Jay's haunting composition, Ashokan Farewell, earned the couple international acclaim. The soundtrack won a Grammy and Ashokan Farewell was nominated for an Emmy.
This concert is made possible with support from The Max and Victoria Dreyfus Foundation.
Friday, October 11 at 7:30 p.m.
Singer-songwriter, Barry Oreck, based in Brooklyn and Indian Lake, NY works in a wide range of folk styles, from bluegrass to blues. Oreck's ear-catching songs often bring a darkly humorous perspective to bear on the personal and the political. As the well-known folk music songsmith Christine Lavin said of one of Oreck's poignant and thought-provoking tunes, "Drink At 4 is a classic. I love everything about it. There's nothing like hearing the original writer sing a great new song, so here's your chance." Barry's virtuosic band -- Jesse Miller, guitar and Rima Fand, violin – will join Barry at ALCA for this special Columbus Day weekend event on Friday, October 11. The group's tight, three-part harmonies bring sweet depth to both original and traditional songs. In addition to Oreck's original tunes, the trio covers songs from outstanding current songwriters like Gillian Welch, David Francey, and Tim O'Brien and share traditional spirituals and protest songs that invite audience participation. Barry Oreck and Friends have two recent CD's – check them out at barryoreckmusic.com.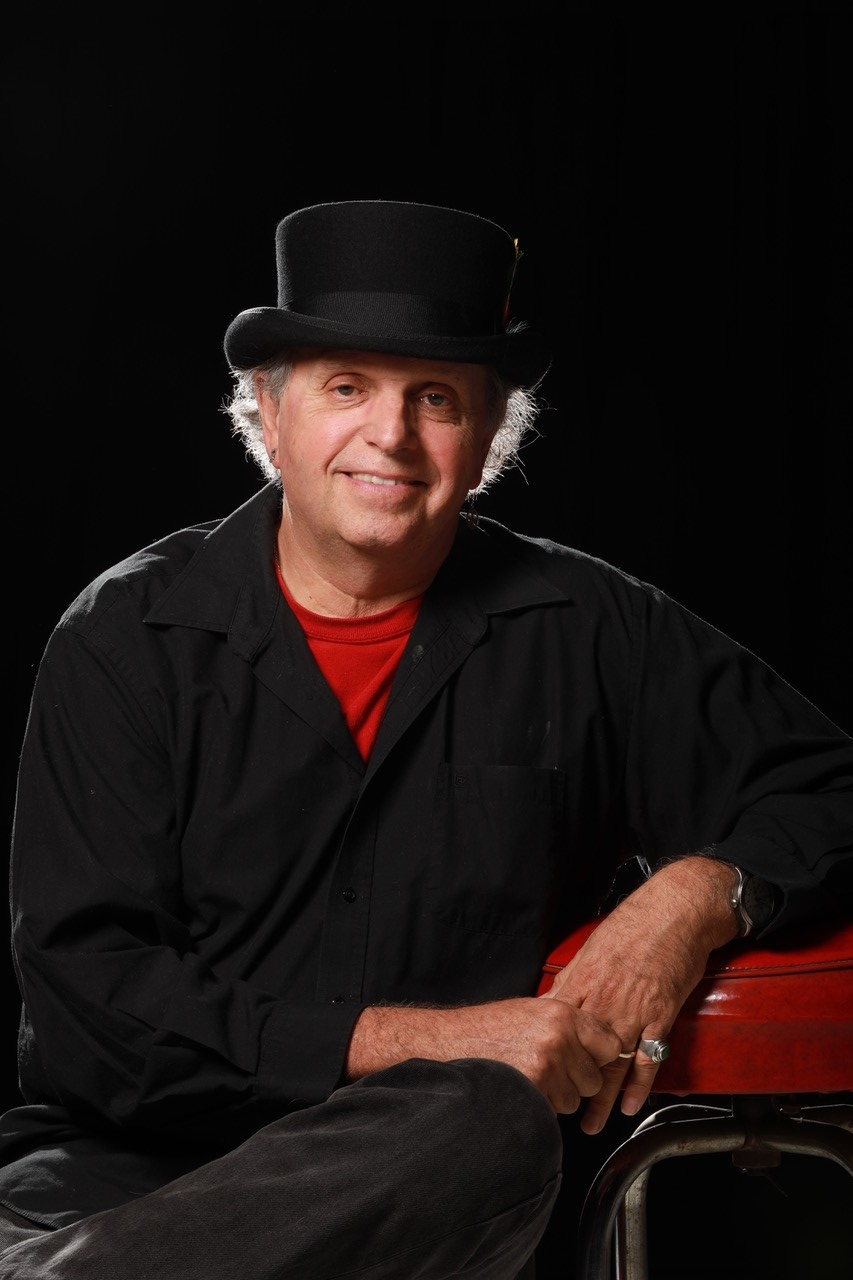 Saturday, October 5 at 7:30 p.m.
David Owens, "the singing bus driver", hails originally from Troy, New York and currently lives in Schenectady. David's songs cover a wide variety of themes from social commentary to relationships to a stirring tribute to Hank Williams, Sr. His styles encompass the range from country to folk to rock with a bit of Sinatra thrown in to round things out. Bill Holszt of the Philadelphia Inquirer once described him as "a very gifted singer, whose voice has a timbre worthy of Tim Buckley and who also has the sort of storytelling gifts of Townes Van Zandt, a truly unusual and winning combination." His latest CD includes "Hank", his tribute to the country music legend as well as "The Poverty Line", a song whose description of the vanishing American middle class is like a Michael Moore documentary condensed down to four minutes with characters straight out of modern day Steinbeck novel. As a school bus driver, part-time carpenter, and performer, his songs are steeped in the gritty realities and hopes and dreams embodied in the working life.
North Sea Gas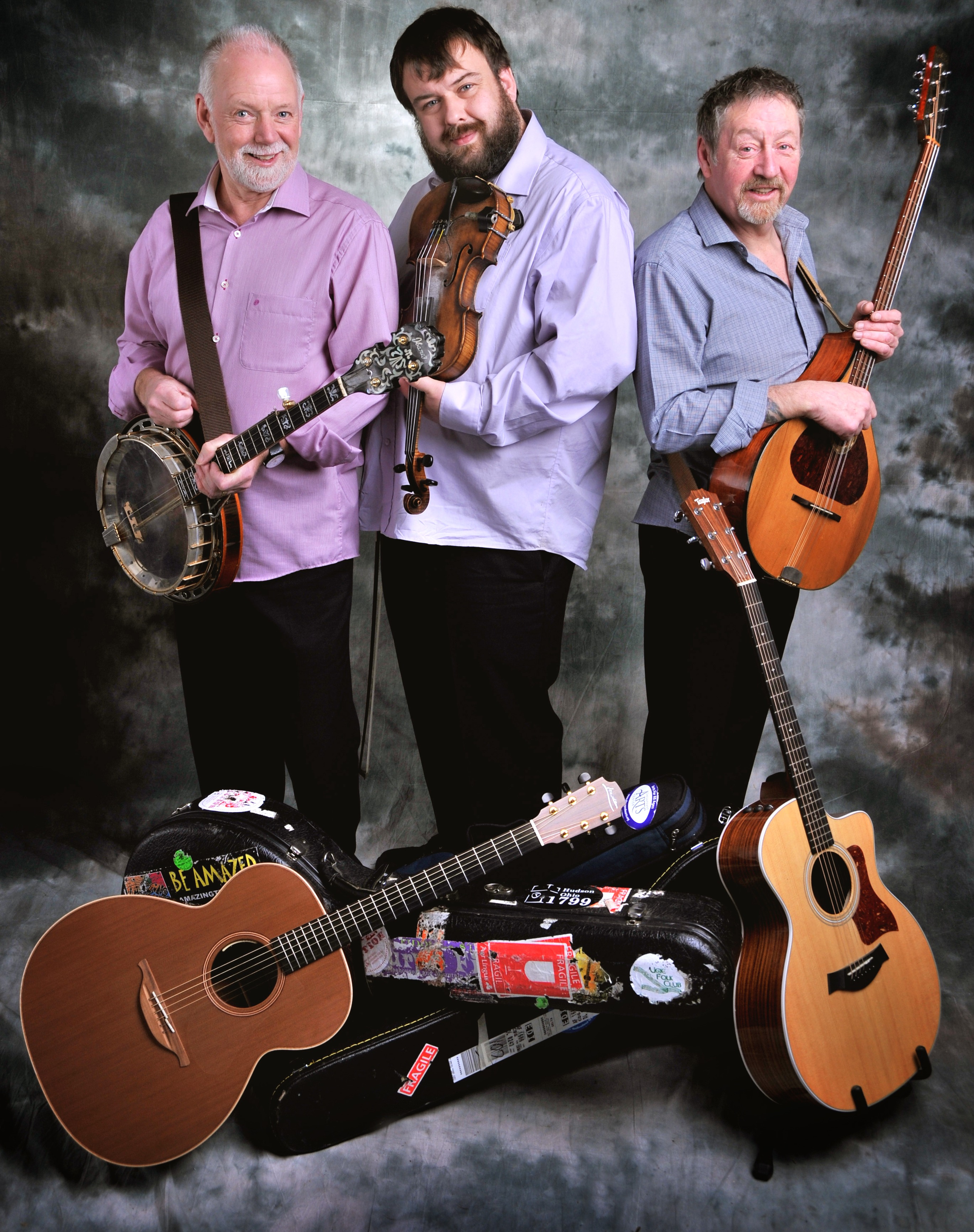 Saturday, September 28 at 7:30 p.m.
Over thirty-eight years and stronger than ever!! "North Sea Gas" is one of Scotland's most popular folk bands with great vocals and tremendous three part harmonies. Guitars, Mandolin, Fiddle, Bouzouki, Harmonica, Whistles, Bodhrans, Banjo and good humor are all part of the entertainment. They have received Gold and Silver Disc awards from the Scottish Music Industry Association and regularly have sold out shows at the Edinburgh Festival Fringe and around the world! The band is made up of Dave Gilfillan (Left), Grant Simpson (Center), Ronnie (Mac) McDonald (Right).
Their show, and their albums, consists of traditional, contemporary and self-penned material put together in a style all their own along with their humor and story- telling. This proves popular during their regular tours of Scotland, America, Canada, Germany, Austria, Estonia, Turkey, and many other destinations both in and outside of their home in Scotland. Every year there are appearances on TV and Radio on both sides of the Atlantic including "Late Night Saturday," "Woodsongs Old Time Radio Hour," and "Song of the Mountains" shown on select PBS (Public Broadcasting Service) TV stations in the U.S.
"The band displays an attachment and a reverence for their roots from the very start. The music feels genuine, unpretentious and spontaneous, with a fondness for storytelling and beautiful harmonies." (Celtic Radio - Boston) http://www.celticradio.net
"No airs and graces just fantastic music"... EdinburghGuide.com (Edin/Festival)
Sponsored by the Tom Fagan Fund.
Martin & Kelly
Saturday, September 14 at 7:30 p.m.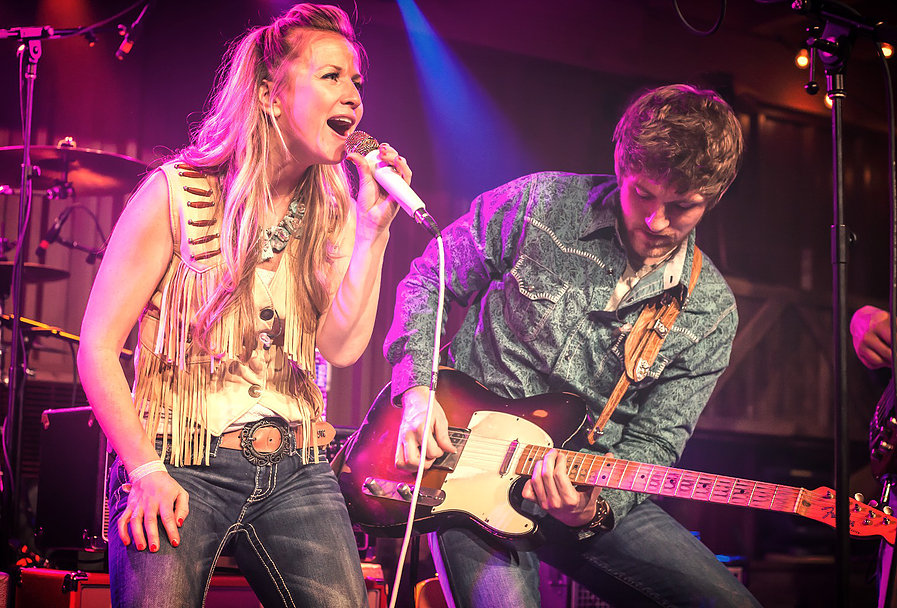 The incredibly talented duo of Jilly Martin and Ryan Brooks Kelly have become the next must-see act from New England to Nashville. Over the years, they've been featured as support acts for many traditional, and mainstream country artists.

Standouts in today's crossover country music scene, Jilly & Ryan's songs bridge the boundary between traditional and new country. They've made their mark with highly-acclaimed original music and are winning over audiences each and every time they perform. Jilly and Ryan's compelling song-writing, dynamic vocal harmonies and stunning musicianship have them poised for a breakthrough in the music industry.
Sponsored by the Jane Jacobs Music Fund.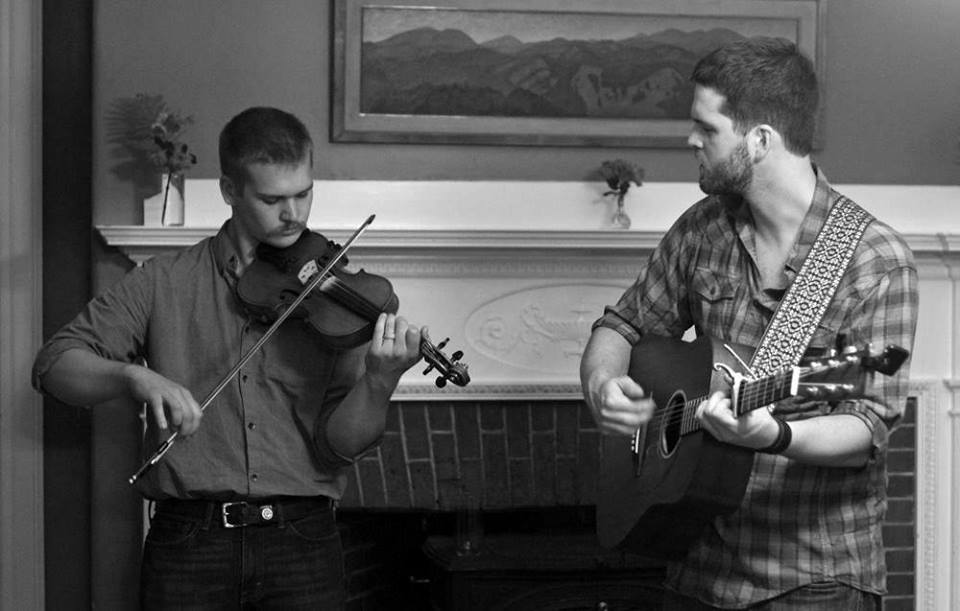 Brillhart & Smith
Friday, September 6 at 7:30 p.m.
Brillhart and Smith is the duo project of fiddler Jake Brillhart and singer-songwriter Alex Smith. The two have toured extensively for the past five years performing Brillhart's Cape Breton-influenced fiddle tunes and Smith's finely crafted folk ballads. The result is a show that is both energetic and contemplative, and one which has captivated audiences from Iowa to Maine.
Michael Jerling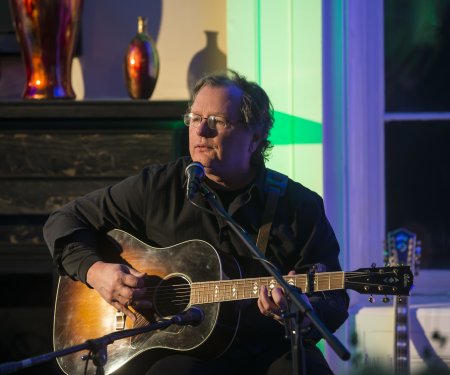 Friday, August 30 at 7:30 p.m.
Born and raised in Illinois, songwriter Michael Jerling became involved with music while helping to run the campus coffeehouse at the University of Wisconsin - Eau Claire. Now settled in Saratoga Springs, New York, Michael has been a noted artist on the club, college and festival circuits of North America since 1975. His baritone voice is backed up with consummate skill on six & twelve string guitars, harmonica and mandolin, all buoyed by his dry sense of humor.
Michael was a winner of the prestigious "New Folk" competition at the Kerrville Folk Festival in Texas, and his involvement with the seminal Fast Folk Musical Magazine in New York City led to his song Long Black Wall being included in the Smithsonian Folkways CD celebrating twenty years of Fast Folk.
2018 marked the release of his latest album, Family Recipe, featuring 12 new original songs on his own Fool's Hill Music label. Family Recipe reached #8 on the Folk DJ Chart. Halfway Home was released in 2014 and Music Here Tonight, recorded live at the legendary Caffè Lena in Saratoga Springs, NY, was released in 2009. Also, on Fool's Hill are Crooked Path (2007) and Little Movies (2001). My Evil Twin (1992) and New Suit of Clothes (1994) were released on the Shanachie label, and in 1997, In Another Life came out on the Portland, Oregon based Waterbug Records. Early Jerling (1998), also on Waterbug, is a digitally remastered compilation of selected cuts from his self-released LPs On Top of Fool's Hill (1981), and Blue Heartland (1988).
Through all of these recordings and in his live performances, Michael displays his first-rate lyrical sense and impressive musicianship - borrowing from blues, rock, country and R&B. A keen student of the good and ghastly in American life, Michael weaves themes like a novelist, evoking our shortcomings and dreams without yielding to cynicism or sentimentality. Often praised as a "songwriter's songwriter" who composes in styles influenced by the wealth of American music, he has been characterized as an artist who performs his "extraordinary songs with the uncommon ability to deliver them to an audience with power and grace".
Vicki Kristina Barcelona
Saturday, August 17 at 7:30 p.m.
Vicki Kristina Barcelona is Rachelle Garniez, Amanda Homi and Terry Radigan, a power trio of seasoned music veterans dedicated to re-imagining the songs of Tom Waits via inventive three-part harmonies and a treasure trove of instruments including banjos, bottles, squeezebox, and zills. They create a world of sound at once powerful, playful and poignant. Seasoned singers and songwriters, each a hybrid story-teller and multi-instrumentalist in her own right, join forces to salute the tragicomic lyrical genius of the Waits songbook. Picture the Triplets of Belleville disguised as Depression Era hobos riding the rails across America stopping to play dance parties and funerals along the road to nowhere.
Three distinct styles form a captivating original mix, greater than the sum of its' parts, never failing to amaze and delight audiences of all stripes. Collectively, they have worked with artists including Jack White, Jackson Browne, Jane Siberry, Patty Loveless, Dan Penn, Ray La Montaigne, Thomas Dolby, and Taylor Mac.
Sponsored by the Jane Jacobs Music Fund.
Durham County Poets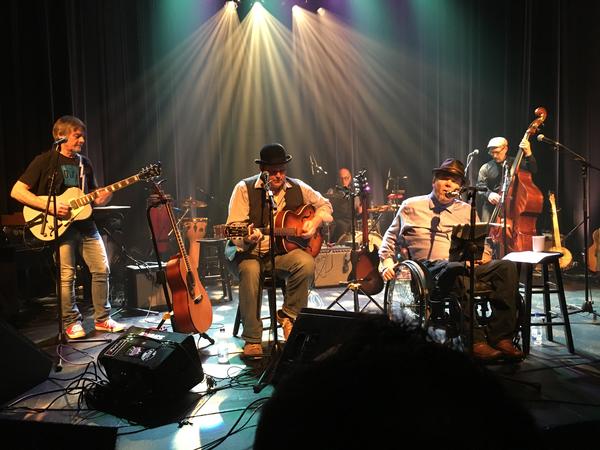 Friday, August 9 at 7:30 p.m.
The Durham County Poets are a lively and soulful group, who write and perform an eclectic blend of blues and folk, with tinges of gospel and swing tossed in for good measure. They are five seasoned musicians, all of whom are songwriters, who work together individually and collaboratively in composing their music. Delving into a variety of styles and genres, their musical influences include a broad range of artists. From the Band to James Taylor, Muddy Waters to Dire Straits...They have managed to put it all together to create their own musical style. The obvious joie de vivre expressed while performing together is reflected in the good-time feel that the band creates, which has been captivating their audiences consistently since their inception in 2011.
Fronted by Kevin Harvey, a self-proclaimed blues crooner on lead vocals, The Durham County Poets also feature David Whyte on electric guitars and vocals, Neil Elsmore on guitars and vocals, Carl Rufh on double bass and vocals and Rob Couture (formerly of The Echo Hunters) on drums and percussion.
Friday, July 26 at 7:30 p.m.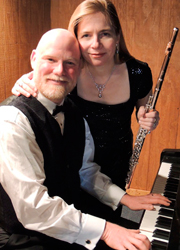 The duo, consisting of Anne Barnhart (flute and vocals) and Jeff Barnhart (piano and vocals), was formed in 2001 to perform at the prestigious annual Jazz Festival in Sun Valley, Idaho. Subsequently, Ivory&Gold® has been invited to appear in hundreds of venues from coast-to-coast, including The Musical Instrument Museum in Scottsdale, AZ, Twin Falls Center for the Arts, The Tempe Center for the Arts, The Kerr Cultural Arts Center in Phoenix, AZ, The Tulsa Performing Arts Center, New Hampshire's Wolfboro Friends of Music Concert Series, Music on the Divide in Georgetown, CA and an annual concert at the Reutlinger-Brune Victorian Palace in San Francisco, to name but a few.
Ivory&Gold® has played to packed houses on six of the seven continents in every imaginable scenario. This husband-and-wife team continues to thrill audiences with music, history and humor, enjoying a hectic schedule of concert, festival and private home appearances. The Barnharts' versatility and rapport create an incomparable listening experience for all ages and in all settings, from an intimate 20 person gathering to a 2000 patron event. Along with exciting concerts on land, Ivory&Gold® has performed at sea on cruises with, among others, the exclusive Peter Deilmann, Regent, and Crystal Cruise lines.
A typical concert features a wide variety of styles from Ragtime to Swing, Blues to Broadway, and Folk to Gospel, coalescing in a presentation they have coined "Eclectic Americana." As a duo, Ivory&Gold® boasts nine recordings, with their latest album, Bridges. In addition, both Anne and Jeff appear on the prestigious USA-based Arbors Records label with jazz stars Bob Wilber and Bucky Pizzarelli.
For more information: http://www.parkerartists.com/Ivory&Gold.html.
Sponsored by Tony Zazula & Mark Chamberlain.
Dave Ruch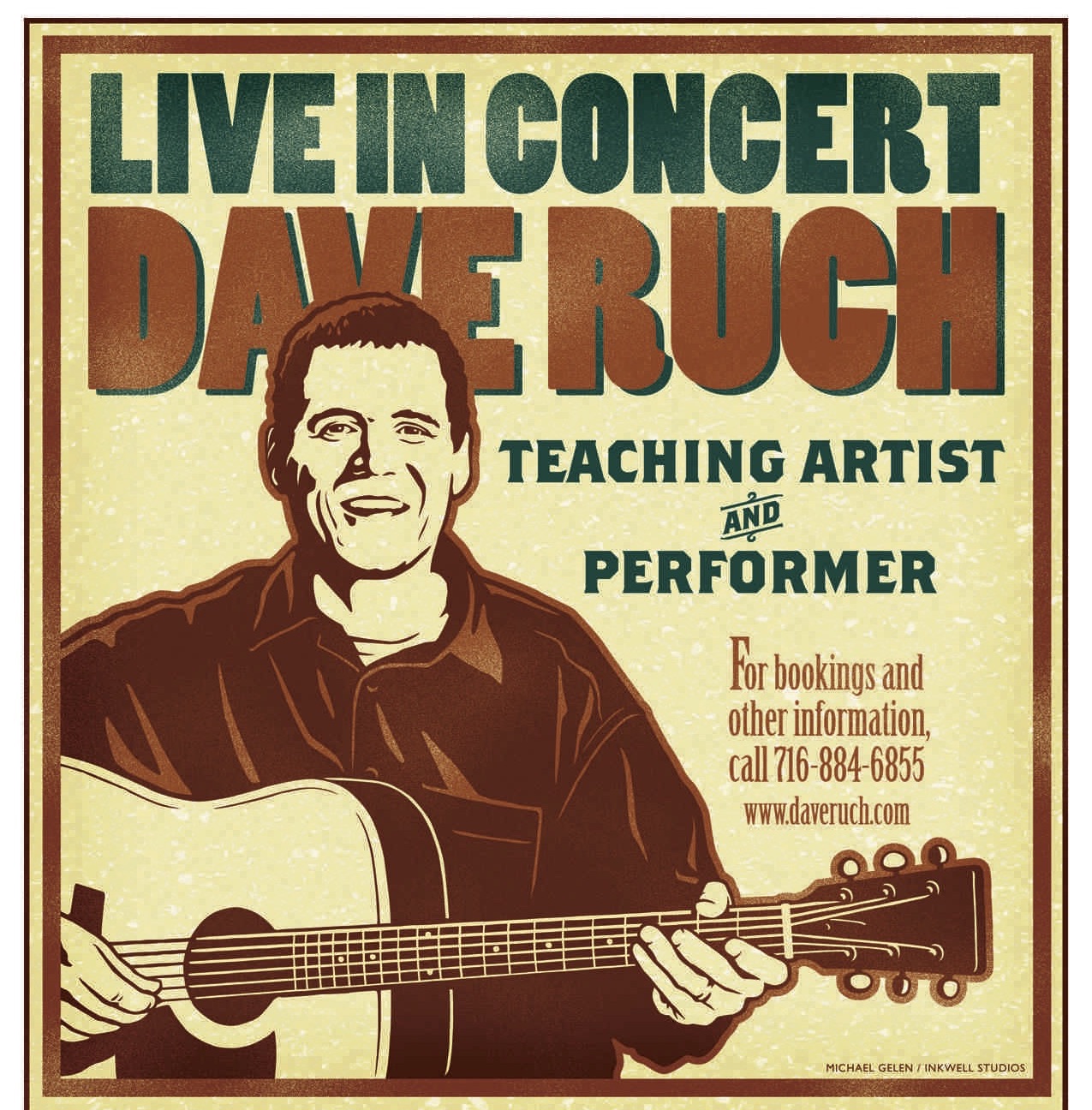 Friday, July 12 at 7:30 p.m.
Enjoy complimentary ice cream sundaes!
Dave is a special musician who sings and plays music for adults and children on an intriguing assortment of instruments including banjo, guitar, jaw harp, bones, spoons and more. This concert will focus on family-friendly songs to sing along with, move to, act out, laugh about…and even learn something from! A professional musician and educator based in Buffalo NY, Dave Ruch gives hundreds of concerts and workshops each year for schools, libraries, music festivals, historical societies, museums and community events both at home and abroad.
Sponsored by the Stewart's Holiday Match.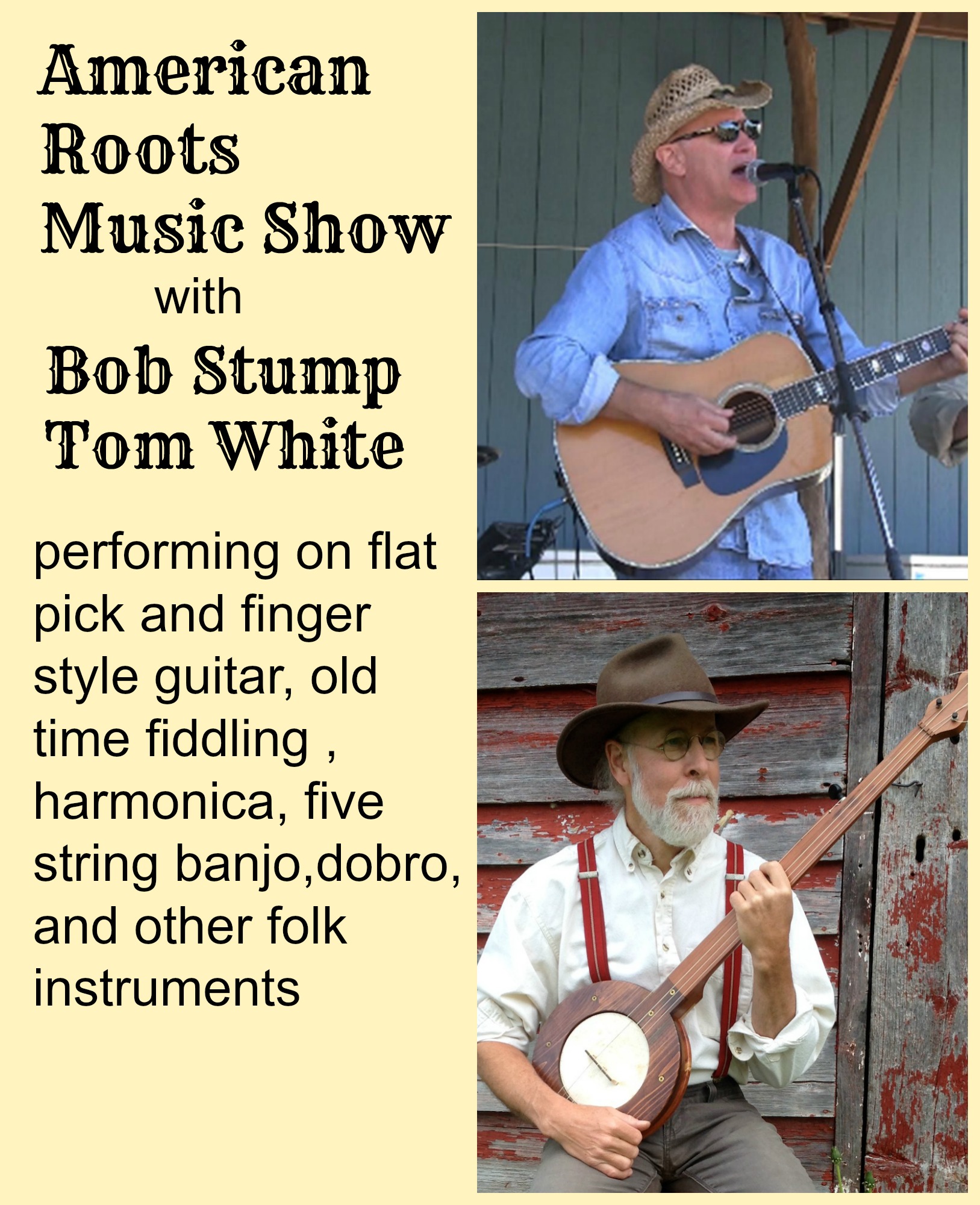 American Roots Music Show with Bob Stump and Tom White
Saturday, June 29 at 7:30 p.m.
Bob Stump is an accomplished and well-known artist, musician, songwriter and entertainer. His music, referred to as Americana, is a hybrid of sounds covering great guitar styles from the likes of Doc Watson, Big Bill Broonzy, Robert Johnson, Merle Travis and other greats. He combines this with his own high energy picking and storytelling. His songs are played on XM Radio and a few have publishing deals in Nashville. He has recorded three CDs and is working on the fourth. His latest release is "Singer Songwriter" available on iTunes. His motto these days is "have guitar, will travel!"
Tom White is a master folk musician. Hailing from Baltimore/DC area, he plays the fiddle, mandolin, banjo, mountain dulcimer, hammer dulcimer, penny whistle and concertina, not to mention guitar and additional percussion folk instruments. He is versed in musical styles including Old Timey, Bluegrass, Celtic, Jazz, Swing and other genres. Tom owns and operates a recording studio in upstate NY and has played and produced many albums for a variety of artists in the region and beyond.
Mike Powell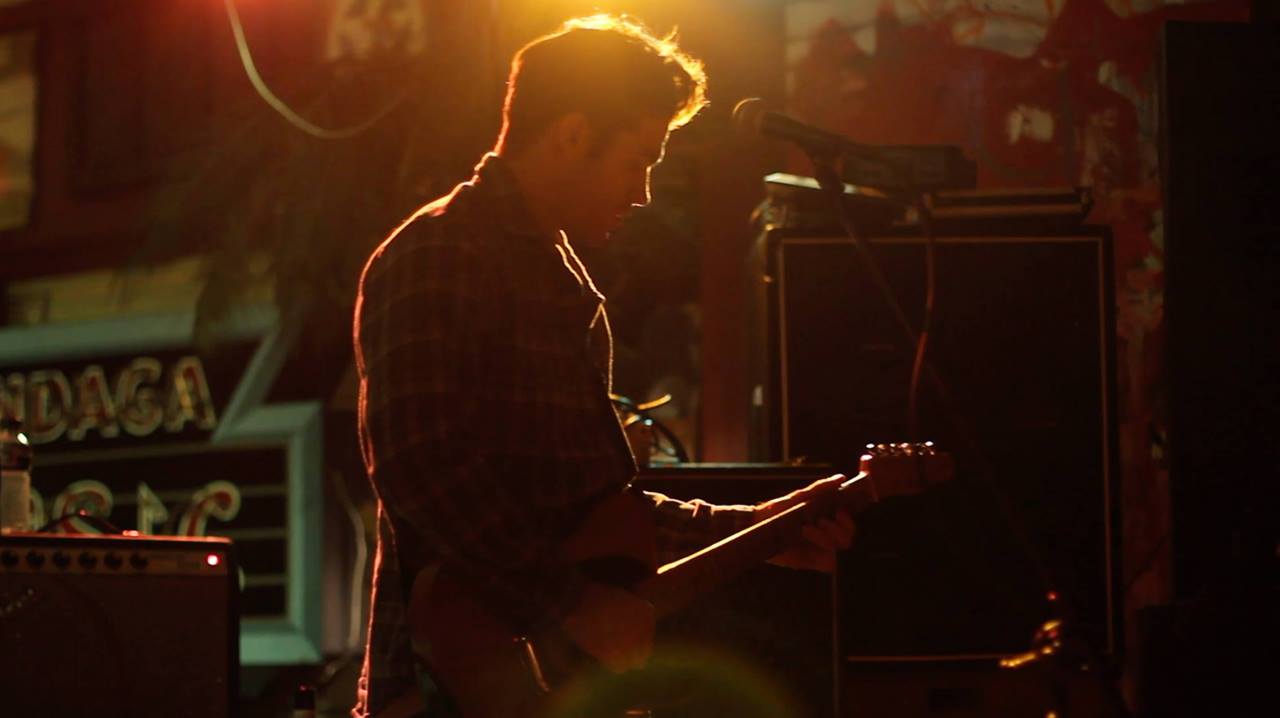 Saturday, June 15 at 7:30 p.m.
With a vintage voice and a chest full of hauntingly heartfelt songs, prolific storyteller Mike Powell is the underground messenger of blue-collar soul. Each night the lights go up, this pioneering poet lets his guard down and allows the fervently fearless stories to come to life. His comfort behind a microphone blended with his unique brand of "atomic folk" creates a vibe that warms the room.
He was raised along the banks of the Black River in the paper making town of Champion, NY, by his mill-working father and an artist mother. The front half of his childhood home was converted into a retail space called "Grandma's Room" where his mother would sell her crafts to the people of their small community. It was typical for her customers to be invited into their small kitchen for coffee and conversation. Young Mike Powell would lie under the table, close his eyes and absorb all of the unique stories that these folks would tell.
Around that same table, his father Larry would return in his blue mill-issued uniform with beer, friends, and a carton of cigarettes. Larry would play guitar and his friends would sing along to old country songs by Willie, Hank, and the Possum. The format in the kitchen was the same every night, Larry would play a song and then someone would tell a story. All of this seeped deep into Mike Powell's fabric and it truly comes through in his shows. His performances feel like you're sitting around a small kitchen table in a tiny American town with your closest friends drinking, laughing, and telling tales.
This fiercely independent artist presents his songs in several different formats which allows his sound to match whatever room he's playing. His relaxed solo-style listening room show puts Powell's extreme comfort as a performer on display and breaks down the door between the stage and the mezzanine. Over the past fifteen years he's written over two hundred songs, released seven albums, and has toured the country playing shows with Martin Sexton, David Lindley, Shooter Jennings, Sarah Lee Guthrie, and many more.
"One of the premier singer/songwriters in music today" - NYS Music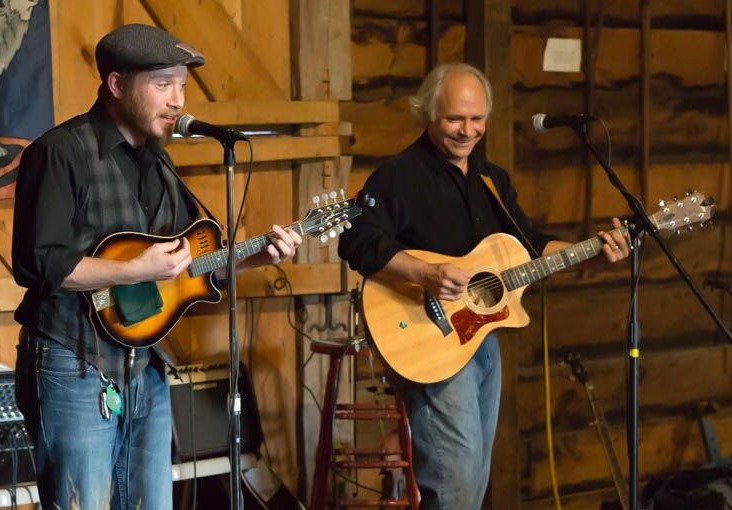 John & Orion Kribs
Friday, May 31 at 7:30 p.m.
Father and son, John and Orion Kribs, have been making music together a long time. Both are accomplished multi-instrumentalists whose eclectic styles cover everything from Elvis and Carl Perkins to Gershwin, John Lee Hooker and O'Carolan. "Roots" best describes their style but their sound is unique to them. Their songs reflect a wide range of Americana and the sound is that of musical styles not only passed down from father to son but of endless hours of playing, listening and learning together.
"East Meets West" featuring Ustad Shafaat Khan
Friday, May 10 at 7:30 p.m.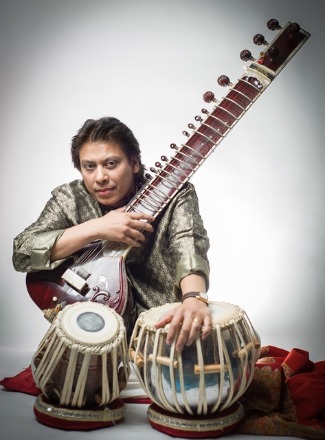 Ustad Shafaat Khan - Sitar/Vocal/Tabla
Coco Bastien - Guitar/Vocal
Marco Mizzoni - Tabla
Ustad Shafaat Khan's Website: www.musicalbeats.net
Ustad Shafaat Khan, world-renowned Indian Classical musician, son of Ustad Imrat Khan and nephew of Ustad Vilayat Khan, has performed worldwide at many prestigious concert halls, music festivals and universities all over India, America, Europe, China, Russia, and Japan. Recently, he performed with Stevie Wonder at one of the biggest festivals in the USA, The Bonnaroo Festival. In the past, he's shared a television concert with Ray Charles in Germany. In addition, some of his CDs have been produced by the famous Dr. Deepak Chopra. In the rich history of Indian classical music, Shafaat Khan has distinguished himself by being the first known artist to have attained simultaneous excellence in performing sitar, surbahar, and tabla.
"Virtuoso...Classical purity astonishing... intellectual and poetic...creator as well as
performer" - The Washington Post

"Star in the world of classical music... the thunderous ovation never ceased throughout his
performance" - Chandigarh Tribune India
Ticket Prices: $15 Arts Center Member; $25 General Admission; $10 Youth 17 and Under
The Town of Indian Lake's Snocade Committee and the
Adirondack Lakes Center for the Arts presents, FLAME, The Band
At the Indian Lake Theater

13 E. Main Street, Indian Lake, NY 12842
On Saturday, February 23, 2019 at 7 p.m.
For more information on Flame, The Band, visit their website by CLICKING HERE.
The concert, which is presented by the Town of Indian Lake's Snocade Committee and Adirondack Lakes Center for the Arts is the closing event for the town's week-long winter carnival celebration.
Flame is capturing the world's attention. The band is made up of 10 people with developmental and physical disabilities, including autism, Down syndrome, and blindness. They are from Lexington Center, Fulton County Chapter, NYSARC, Inc. located in Gloversville. They are a phenomenon that inspires people and changes the way the general public views people with disabilities. People of all ages and backgrounds connect with this special rock band. Parents are often overcome with emotion watching Flame, seeing that it's possible to that their child will achieve great things and, even more importantly, have a fun and fulfilling life.