"HOT! The Music of Cole Porter"
Saturday, September 21 at 7:30 p.m.
Seagle Music Colony is the oldest summer vocal training program in the United States and the premier opera and musical theatre producing organization in the Adirondack region of upstate New York. In 2019, Seagle Music Colony will celebrate its 104th Anniversary Season. "HOT! The Music of Cole Porter" is a wonderful ride through some of the most familiar tunes by this master of song! With songs like "I Get a Kick Out of You", "Night and Day", "Anything Goes" and many more you'll be dancing in the aisle and know why this show is "Too Darn Hot!"
2019 Great Arts Benefit at Great Camp Huntington on Raquette Lake
Sunday, August 11, from 3 - 6 p.m.
Please join the Arts Center on Sunday, August 11, 2019, from 4 to 7 p.m. for our annual Great Arts Benefit – a truly memorable event at Camp Huntington, also known as Camp Pine Knot, a national historic landmark. The benefit includes a tour of four historic buildings. Please note this is a boat access only event. The last boat will leave at 4:30 p.m.
Annual Board Meeting and Community Charette
Thursday, July 11 at 4:30 p.m.
Public Invited
Join the Arts Center's Board of Directors and Staff to learn about the organizations most recent developments. Participate in the Community Charette (defined as: a public meeting or workshop devoted to a concerted effort to solve a problem or plan the design of something) regarding the future of the building and the Arts Center's efforts to establish an endowment fund. The meeting is open to the public.
Annual July Yard Sale and Auction
Friday, July 5 starting at 9 a.m.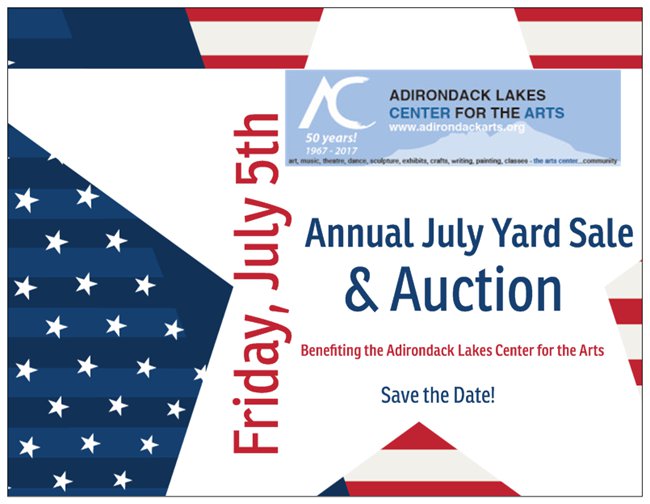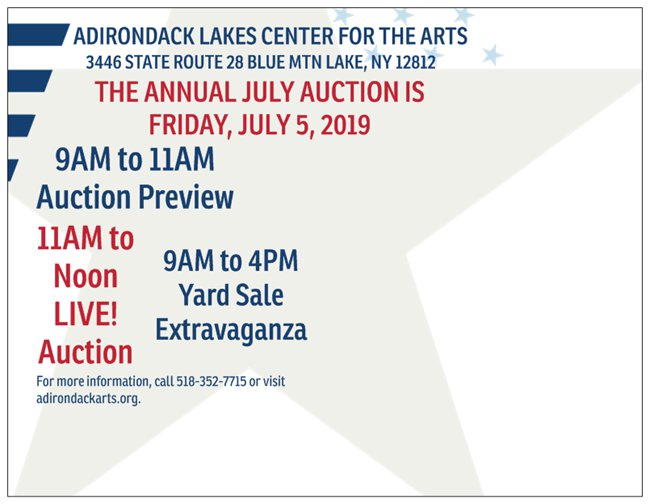 Tipsy Tea and Purse Party at the Indian Lake Restaurant
Saturday, May 18, 1 - 3 p.m.
The Tipsy Tea and Purse Party is a way to come together at a themed party to have fun and purchase new or upcycled purses, or to just have fun and enjoy good food and company. Your ticket includes a variety of teas, 1 adult cocktail, and a luncheon featuring delicious finger sandwiches and desserts.
Winter Benefit for the Arts Center
Thank you to all of our members and supporters who attended the Arts Center's Annual Winter Benefit on March 9, 2019. We are so fortunate to have such a generous and dedicated community that continues to support the Arts Center year after year. We also want to thank our hosts, the Hosley family and staff at the Long View Lodge! Stay tuned for information on our next Summer Benefit!
Past Special Events at the Arts Center in 2018: