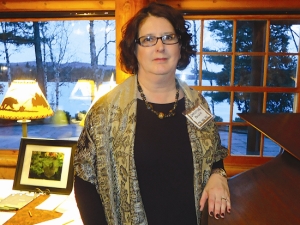 Christine Pouch, Executive Director
christine@adirondackarts.org
As a resident of Indian Lake since 2006 and a born and raised New Yorker, Christine became the Arts Center's director in March of 2016. Christine has 15 years of non-profit resource and business development experience. She has a BA in Liberal Arts and Communications from Purdue University and a certificate in Fundraising Management from Indiana University-Purdue University Indianapolis. Christine chose to work in the non-profit field after serving as a United Way Loaned Executive. Former employers include, G.H. Bass & Co., Horizon Bank, Boys & Girls Clubs of Porter County and the Adirondack Museum. Christine, her husband, Alan, and their black lab, Bosco, enjoy paddling on Lake Abanakee and hiking various trails throughout the Adirondacks.
Please contact Christine for fundraising, donations, grants, advertising and all other inquiries.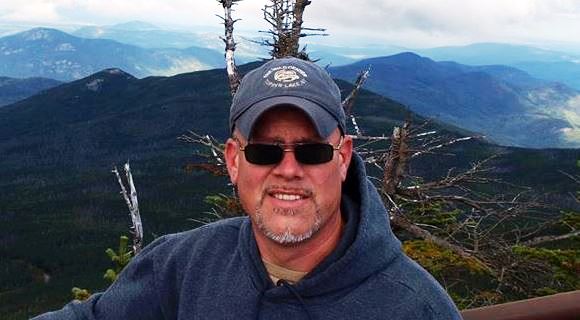 George Cordes, Artistic Director
George has enjoyed an almost 30-year career as a singer and actor, portraying opera, operetta, and musical-theatre roles throughout North America and in Japan. He was on the Metropolitan Opera roster for four seasons and appeared in consecutive PBS Live from Lincoln Center telecasts with New York City Opera, also having sung with Chicago Lyric Opera, Houston Grand Opera, the opera companies of Dallas, Santa Fe, Kansas City, Boston, Pittsburgh, and New Orleans, and many others. He and his wife, pianist Elizabeth Cordes, moved to the Adirondacks in 2006. Liz has been teaching middle/high school choral music in Tupper Lake while both she and George have co-directed the musicals and plays of the Red & Black Players there. They both have worked with most of the music and theatre organizations in the High Peaks region as performers or directors, and they founded High Peaks Opera in 2009. George served as artistic director of the Arts Center from 2016-2018, during which time he produced three seasons of the Adirondack Lakes Summer Theatre Festival and brought many wonderful performers to the Arts Center. In 2019, George took a hiatus to perform, teach, and direct, but he is now excited to be back for the 2020 season and beyond!
Please contact George with inquiries about the Adirondack Lakes Summer Theatre Festival and performances happening at the Arts Center.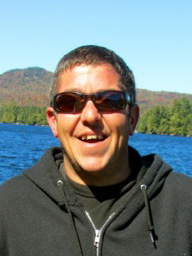 Joe Perreault, Production Manager and Technical Director
Joe@adirondackarts.org
Joe Perreault (Technical Director & Production Manager) has been a member of the Arts Center family since 2012, doing everything from building sets to mounting circus tents throughout the Adirondack Park. Joe grew up on a small farm in New Hampshire, eventually moved to Florida where he finished high school, and volunteered as a firefighter for Duval County, Florida. Prior to joining the Arts Center, Joe worked with Andy LeBlanc as timber-framer apprentice. Joe is a resident of Indian Lake. He couldn't be more thrilled about the new and exciting things happening at the Arts Center each year. "This job is always bringing something new to the table. I'm learning something new every day, whether it's about a lighting plot in a new venue or a better way for sound to be heard in the back of the house. It has allowed me to meet some amazing people that I never would have crossed paths with otherwise. Having a job like this one in the middle of the Adirondacks is pretty unbelievable."
Please contact Joe for building inquiries, and equipment and facility questions.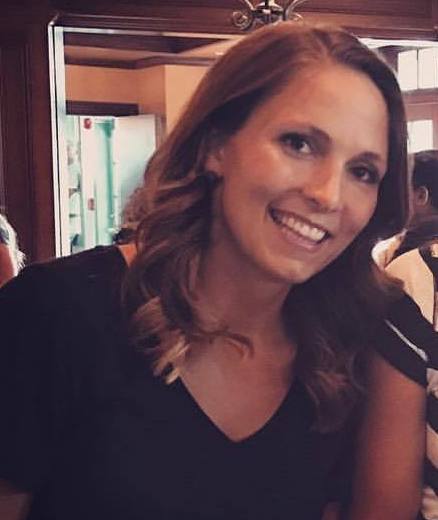 Chelsea Provost, Decentralization Grant & Marketing Coordinator
Chelsea joined the Arts Center in May 2018 as the Decentralization Grant and Marketing Coordinator. She moved to Blue Mountain Lake in 2017 with her husband, Tony, and their dog, Addie. Chelsea is from the Finger Lakes Region of New York, but has lived in Washington, DC, Salt Lake City, UT and Lake Placid, NY. Chelsea has her M.S. in Public Policy from American University. Her professional experience is in non-profit development, social advocacy, and child welfare. Chelsea is excited to be a part of the Arts Center family and for the opportunity to use her position with DEC to help grow the arts community in the North Country.
Please contact Chelsea for information about art and cultural grants available through the ADK Quad-County Decentralization Grant Program.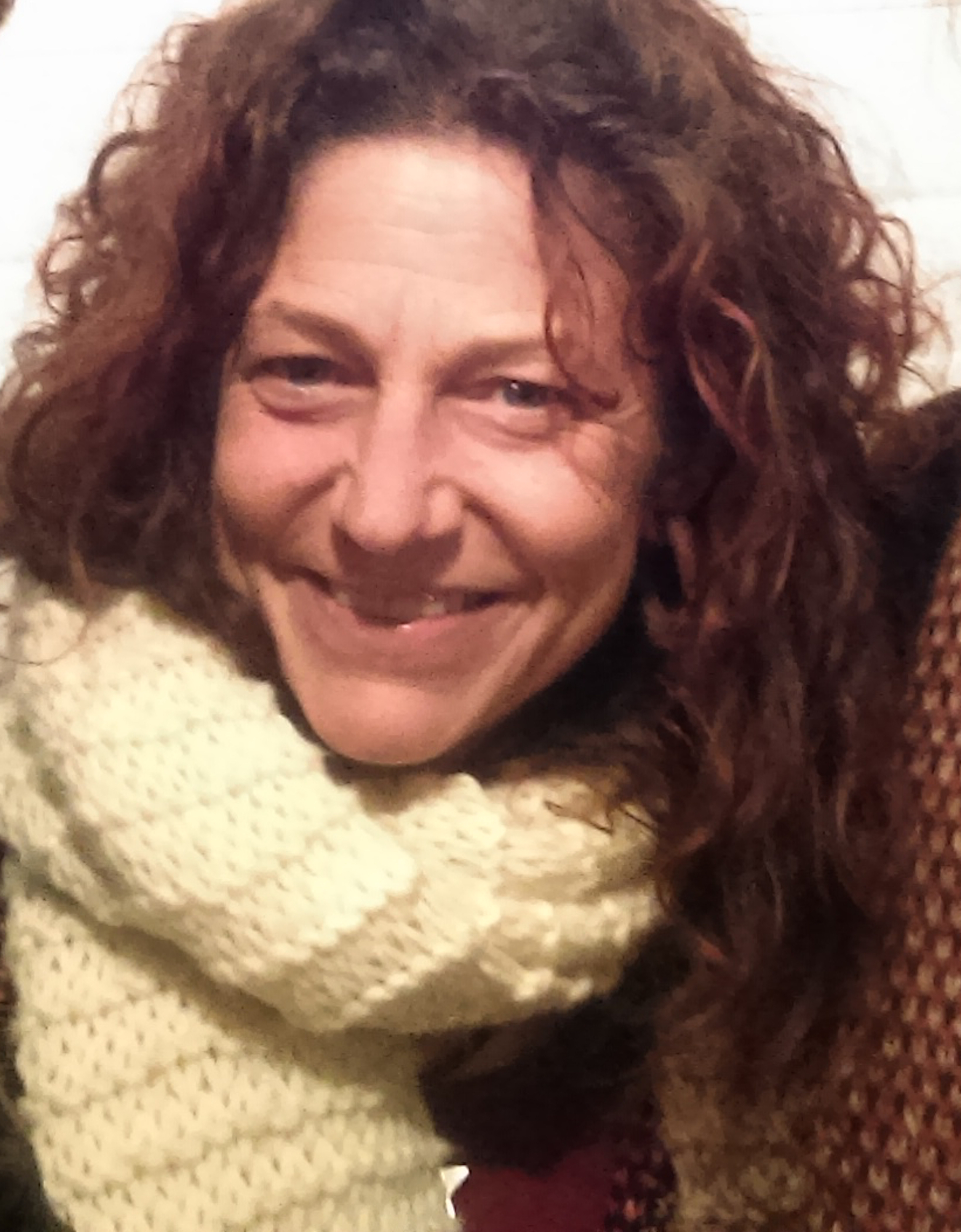 Laura Smith, Education and Gallery Coordinator
Laura Smith grew up on a family farm in New Hampshire. In the mid 90's she moved to Indian Lake to raise her family. Soon after she began her relationship with the Arts Center. Over the years she has held many positions, including, pre-school assistant, costume designer, and coordinator of our summer arts camp for children. Laura is proud and excited to be promoted to this new position in the fall of 2018, and to work with our community and gallery artists.
Please contact Laura for inquiries about galleries and workshops at the Arts Center.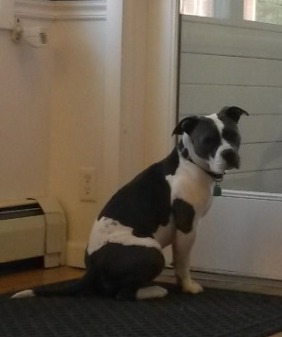 Hospitality & Security Specialist
and Production Assistant Babs Perreault
Babs, a Staffordshire terrier, is the AC's #1 supporter, staff morale booster and mascot. She comes to work with her owner, Joe, and acts as his co-pilot when they travel to various venues to share our performances throughout the Adirondacks. Each morning when she arrives, Babs inspects the building to ensure everything is in order. She is a welcoming committee of one: greeting all AC visitors with a smile and a wag. Stop by the AC and meet Babs! She'll give you a customized gallery tour you won't soon forget!
Arts Center Board
President: Joanna Pine
Vice President: Ardie Russell
Treasurer: Todd Friebel
Secretary: Penny Harr
Trustees: Frances Armstrong, Lauren Arsenault, Jordan Hornstein, Mary Leach, David Oestreicher
Trustees Emerita: Pat Benton, Polly Fagan, Sherry Nemmers, Donna Pohl, Jamie Strader, Evelyn Thompson, Tony Zazula
Arts Center Junior Board
Andy Collins, Lena Giordano, Sadie Gray, Harrison Hall, Evelyn Harr, Alexis Jackson, Ruby Lewin, Gage Morris, Julia Schemp, Anna Strader, Jackson Strader