Special events coming up:
Friday & Saturday, November 24-25

Post-Thanksgiving Celebration Activities
The Arts Center will be participating in the 20th Annual Christmas Country Tour on Friday and Saturday, November 24-25. Complimentary refreshments and crafts for kids will be available both days.
The post-Thanksgiving activities include a Candy Cane Hunt on Friday from 2:30 to 3:30 pm. Youth of all ages are invited to hunt for candy canes and prizes both inside and outside (weather permitting) the Arts Center. In addition, specially marked "ART" candy canes will be hidden with winners receiving extra special rewards.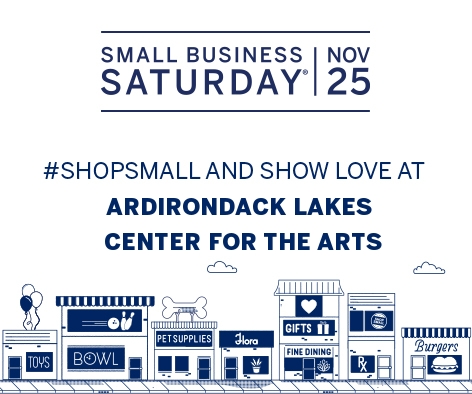 On Saturday, shoppers are invited from 10 am to 4 pm to visit the Arts Center's Gallery and Gift Shop featuring local Adirondack and regional artisans as part of American Express' Small Business Saturday - Shop Small and Shop Local promotion. Special discounts will be offered to encourage shopping local. Spend $100 or more to receive a free Shop Small tote bag while supplies last.
Business hours are Wednesday through Saturday from 10 am to 4 pm. The Arts Center will be closed on Thanksgiving Day. For more details, call 518-352-7715.
Saturday, December 9, 6 p.m.
Soup Social & Holiday Sing!