CONCERTS & SPECIAL EVENTS
You are cordially invited! BUY YOUR WINTER BENEFIT TICKET HERE!
WINTER BENEFIT AT MINNOWBROOK
March 15, 2014
6:00-9:00pm Family Friendly
Join us for an exciting evening dinner and cocktail party, complete with a silent auction and musical entertainment. We have more great silent auction items this year. Overnight accommodations are available on Saturday night, including a continental breakfast on Sunday. For more information or to make a reservation, contact the Arts Center at 518-352-7715.
Members $36
Non-Members $46
Patrons $75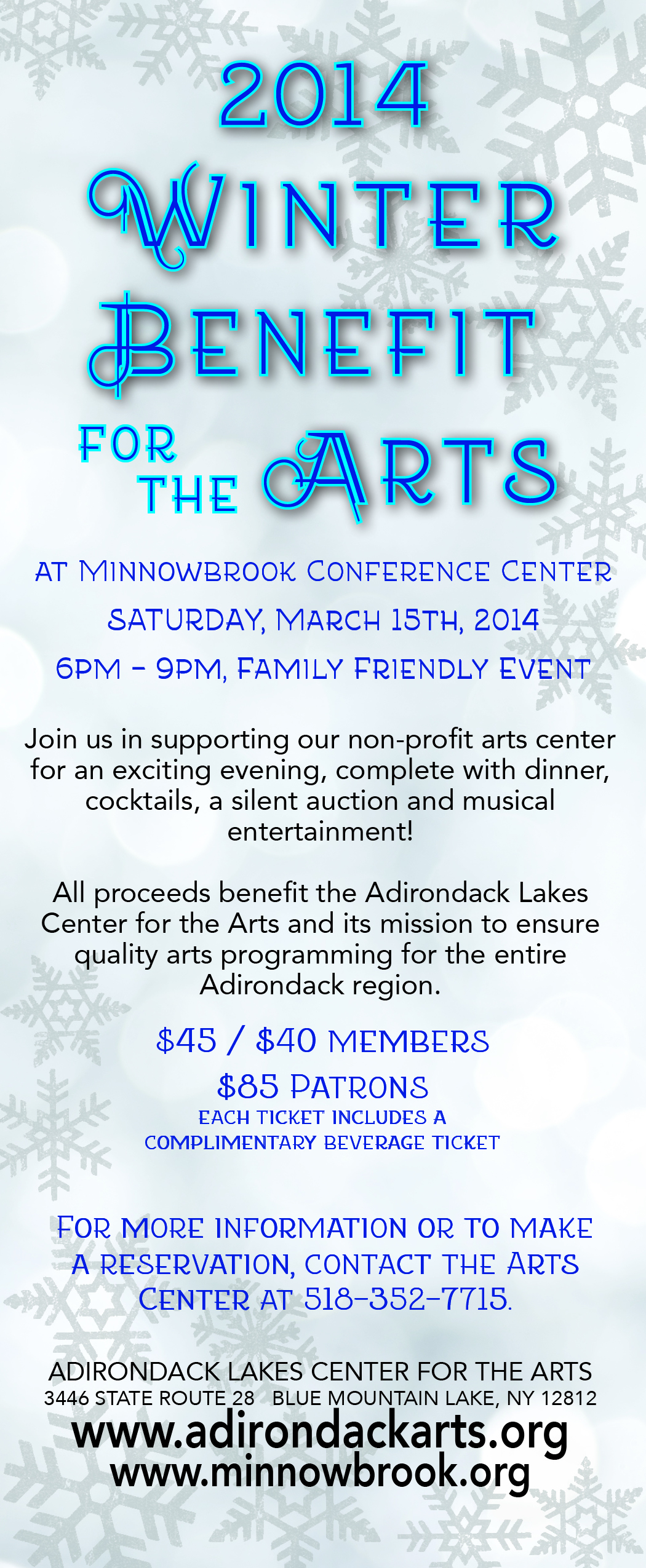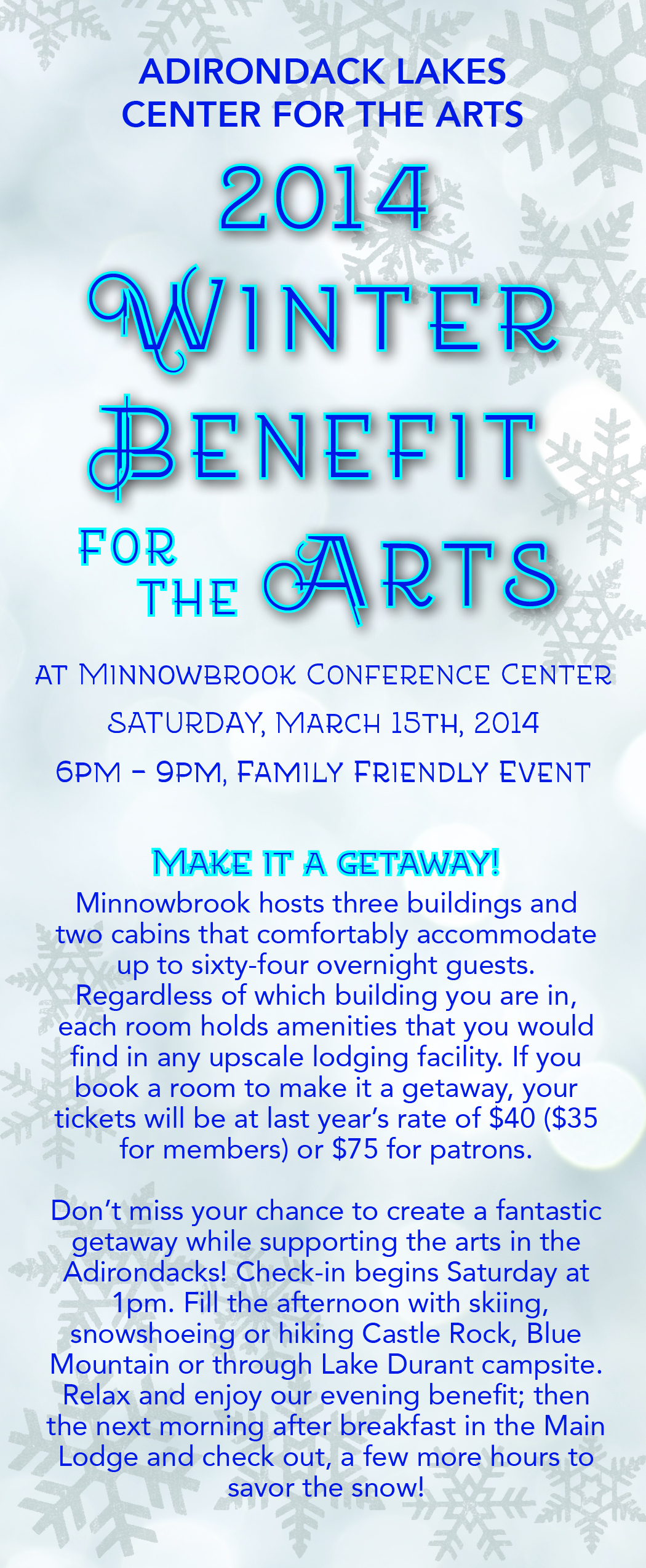 Writer's Workshop with Danielle Melendez
April 5th
12pm-3pm
$15/$10
A seminar to help prepare for 'Forever Wild' later this year! Come and learn the rules and tips for some great writing!
Book Making Class
June 21st & 22nd
12pm-5pm
$30/$25
Students will learn many different book making techniques while creating their own unique books. Painting, printmaking, oil pastels, and collage will be utilized as students create their own pages. Taught by Elaine Katz
DANCE CLASSES with SUE ANN WALLACE
As part of our PRE-K outreach program, we will be offering dance classes for the youngsters! As early as age 3!
Easter Egg Decorating Workshop
Saturday, April 19th
$5 General Admission
12pm-3pm
Join the AC Staff for an afternoon of dyeing, coloring, and decorating Easter Eggs to put out for the Easter Bunny!! Bring a carton of eggs and we will have the supplies!
MERRY BRUNCH OF MAY
May 18th @ 12:00pm
Join us for our 4th Annual "Merry Brunch of May" celebration at the Hedges to benefit the AC's Living Able Program, for adults with developmental disabilities and our Arts from the Start program, providing arts programs for children. Come support these vital programs all while enjoying great company, beautiful flowers and excellent food under the spring May Pole! This year we will be adding after brunch fun, look for more details about the event at adirondackarts.org.
Adults $22
Children under 12 are $12
Dulcimer Concert
June 24th
7pm
Dirk Quinn Band
June 27th
7pm
$15/$10
Dirk Quinn is the guitarist for a high energy funk/jazz/jam band based out of
Philadelphia that travels extensively throughout the US and Canada.
Utilizing over a decade of steady performing, Quinn has developed a unique
and progressive style – one that appeals to a wide variety of music
listeners with fans ranging from the jam band hippies to the jazz snobs.
The band's infectious energy and musical interplay routinely attract
listeners that are admittedly more accustomed to lyric-based music. With
great melodic sensibilities, rhythmic experimentation and an accessible
modern edge, the Dirk Quinn Band is jazz/funk improvisation at its most
exciting!