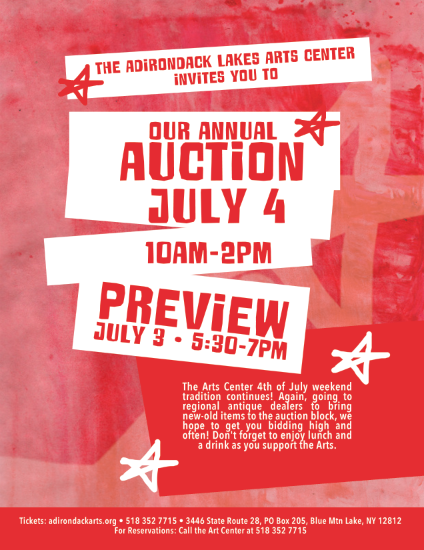 Our Annual Auction
The Arts Center 4th of July weekend tradition continues! Again, going to regional antique dealers to bring new-old items to the auction block, we hope to get you bidding high and often! Don't forget to enjoy lunch and a drink as you support the Arts.
Preview Auction - July 3rd - 5:30-7PM
July 4th - The Arts Center at 10-2pm
Answer the Muse! Healing Yoga and Music Workshop
Answer the Muse is a group that presents both Music and Yoga in a way that will touch and awaken you heart, spirit, and soul....and leave you happy, uplifted and just plain feeling good! Prior to their evening concert, the group is offering a wonderful workshop combining yoga and live music to connect the mind, body and spirit!

Join us for an intimate Kundalini Yoga Music Healing Workshop with the live music of Answer the Muse as your sonic guide. Let the power of your breath awaken and revitalize your energy. By doing "yoga" you do not have to get on the floor and twist into a pretzel.....movement, breathwork, and postures enliven and invigorate the entire body/mind system. It's not about physical challenge...it's all about awakening the heart. LIVE MUSIC ACCOMPANIES THE YOGA CLASS…DEEPEN THE JOURNEY WITH ANSWER THE MUSE!
Chair yoga also welcome....all abilities and levels welcome.
July 23rd, 3pm -4:30pm
The Arts Center

$25/$15 Members
Answer the Muse in Concert - Transformational Rock
Answer the Muse is a fresh music group unlike any other...now emerging and on tour in the Adirondacks, their sound will inspire every cell of your body! It's like going to a Broadway Show that speaks directly to the spirit! They are a unique fusion of theatre, inspired songs, and transformational performance art! Their shows take you on a journey of original songs, remixed rock songs, yogic sacred chant, topped off with Kundalini breath and movement, all presented in a theme based theatrical style. Shows are packed full of audience participation; you are breathing with them, chanting with them, on your feet celebrating life with them! The audience is uplifted - renewed - alive! Discover their wonderful songs---their entwined vocal harmonies---their beautiful and powerful instrumentation.

A perfect summer experience----this is a concert/ a journey/ and music you don't want to miss!
ANSWER YOUR MUSE with Answer the Muse!!!
July 23rd at 7:30pm
The Arts Center
$20/$12 Members
Alex Smith in Concert
Alex Smith grew up in Long Lake, in the heart of New York's Adirondack Park, and his music strives first and foremost to echo the people of that area. He builds songs from a blend of traditional folk harmony and strikingly modern lyrics, confronting today's most pressing issues with grace while paying homage to the masters who came before him. Join us for wonderful music and storytelling!
July 31st at 7pm
The Arts Center
$20/$12 Members

A Grand Night for Singing
An exciting showcase of the music of Richard Rodgers and the lyrics of Oscar Hammerstein II, A Grand Night for Singing is a musical revue of time-tested classics intermixed with some lesser known selections from these masters of American musical theatre. Featuring songs from hits like Carousel, Oklahoma!, The King and I, and South Pacific, as well as lesser-known works such as Allegro, State Fair, and Flower Drum Song, this family friendly blockbuster will surely bring the house down. So enjoy this "Grand Night" full of all your favorite numbers, and perhaps a few new ones you won't forget.
July 8th - The Arts Center at 7pm
July 9th- Tannery Pond at 7pm
July 10th- The Wild Center at 7pm
July 11th- LPCA at 7pm
July 12th- Old Forge at 2pm
Loves Labours Lost
Love and desire face off against logic and reason as a group of determined high school boys swear off the distraction and temptation of the opposite sex. That is, until they realize that the Princess and her court have just moved into town in this innovative 60-minute adaptation of the classic Shakespearean comedy.
July 25th Arrowhead Park, Inlet at 2pm
July 25th Prospect Point, BML at7pm
July 26th Long Lake Pavilion at 7pm
July 27th Paul Smiths at 7pm
July 29th July 30th Byron Park, Indian at 7pm
July 31st Canton Village Green at 2pm
July 31st Wanakena at 7pm
August 1st Great Camp Sagamore at 1pm
August 1st Newcomb Town Beach at 7pm
August 2nd Speculator at 7pm
Urinetown the Musical
Set in a world where water is scarce and corporations control the plumbing, Urinetown is a three-time Tony award winning musical that fantastically satirizes some of the very themes and issues that plague society today. Hilariously funny and touchingly honest, Urinetown the Musical is a modern classic perspective from one of America's greatest art forms.
August 6th- Arts Center at 7pm
August 7th- Newcomb Central School at 7pm
August 8th August 9th Indian Lake Theater at 7pm
August 10th August 11th Tupper Lake High School at 7pm
August 12th Long Lake Town Hall at 7pm
August 13th- Clifton-Fine Central School at 7pm
The True History of the Tragic Life and Triumphant Death of Julia Pastrana, the Ugliest Woman in the World
A spectacular for the ages, Shaun Prendergast's haunting play tells the entirely true story of sideshow freak Julia Pastrana, often billed as "The Ugliest Woman in the World." Traditionally performed in complete darkness, the acting troupe transports the audience to a sideshow carnival using sound, scent, and touch to ignite their imagination with this tragic tale. Don't miss the mysterious TRUE story of this exotically misshapen woman with the voice of an angel.
August 21st at 7pm Champagne Reception at 6pm
August 22nd at 7pm