Classes & Workshops



Classes are located at the Arts Center in Blue Mountain Lake
unless otherwise indicated.
Please call us at 518-352-7715 for your reservation
or click on the provided link to reserve your spot online.
Intaglio: Solar Printmaking Workshop

BLUE MOUNTAIN LAKE, NY: Explore and enjoy the heritage of the intaglio (etching) printmaking, utilizing historic concepts and techniques to influence your approach to contemporary printmaking. The class will be held for three days, July 27 though 29, 2017, from 9 a.m. to 4 p.m. Participants of all ages are welcome.
Intaglio Solar Printmaking Workshop, with artist Roger Hyndman, is a highly versatile and expressive medium, transforming original drawings, paintings, collage, vintage and/or contemporary photographs, JPEG'S, and copier art into high quality etchings. Create a Solarplate etching using UV light (the sun) without losing your image. Enjoy making plates in the sun, developing the plate with ordinary tap water, and printing the images with an intaglio press. The focus will be upon utilizing the tools of the printmaker, your potential and creativity as an artist, the simplicity of plate processing, and the production of professional artwork. Participants will be introduced to a variety of techniques, printmaking practices, and participate in critiques. Solar printmaking will appeal to artists of all levels, from students, beginners, experienced printmakers, photographers, painters, and artists of all media. The workshop will conclude with a class exhibit, critique, and celebration.
Hyndman has conducted workshops in printmaking over the past decade for artists, arts councils, arts organizations, professional organizations, and school districts. He has engaged in artist residencies at arts organizations, colleges, and regional schools. Hyndman has partnered with the View, Adirondack Lakes Center for the Arts, Yates County Arts Center, Mid-Hudson Teacher Center, SUNY New Paltz, Hartwick College, University of New Hampshire, Fletcher Farm School, Touchstone Center for the Arts and Crafts, Great Camp Sagamore, and the Saratoga Arts Council. He has organized and coordinated eight trips to Italy over the past ten years. The focus has been upon the art, history, and culture of the Medieval and Renaissance time periods, including a two-week artist retreat to Tuscany, residing near Florence at a Medieval Villa built in 1392. Recent travels have taken him to Italy, Sicily, Scotland, the Shetland Islands, Fair Isle, and France. Several of his recent intaglio prints reflect the influence of my travels across the United States, Europe, and the Tuscan countryside.
July 27 through 29, 2017 from 9 a.m. to 4 p.m.
Fee for this class: $40 per day for Arts Center members; $50 for non-members
Participants may come to one session or all three.
Please note: There is an additional fee for the specialty materials required that will be paid to the instructor.
Fees for materials may vary as much as $50 per person.
Feel free to bring your own lunch.

Monoprintmaking Class for Youth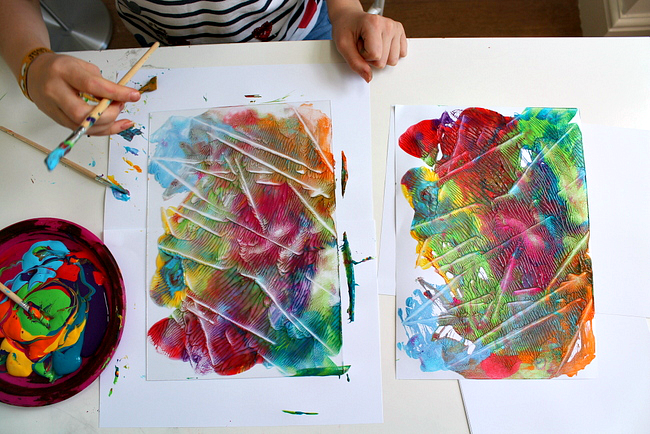 Roger Hyndman, an accomplished Solar Printmaking artist, will be teaching classes at the Adirondack Lakes Center for the Arts during the last week of July. On Wednesday, July 26, Hyndman will lead the AC Kids Experience Youth Summer Art Camp in monoprintmaking. The Monoprintmaking class for youth will be held in two sessions: 10 a.m. to Noon and 1 p.m. to 3 p.m. Students can attend either one or both sessions.
A monoprint is an image that is painted onto a plate, or plexiglass. The painted surface is placed on the press, a damp sheet of paper is applied over it, and then it is run through the press by hand. Blankets protect the back of the paper from the roller and help to create a finely toned image. Images that have a raised surface will emboss the paper and create an interesting light and shadow effect.
The image is printed onto the paper. Some times the artist will repeat the inking to build up the shapes and images with multiple colors overlapping each other creating different images. Found objects and a collection of Nature items create exciting images. A variety of techniques, composition, and colors create a very rich and exciting look to the image, the surface of the paper, and colorful artwork. The workshop concludes with an exhibit of the student's creativity.
Hyndman travels across the United States focusing upon the rich natural and cultural history, and the native peoples of our country. Travels to Europe have focused upon the culture of Scotland, Fair Isle, Shetland Islands, ancient Greece, Italy, Sicily, and the Medieval and Renaissance periods. The Italian Renaissance and the religious imagery of that period have influenced his creative images. He has found this period in history to be the foundation for the fundamental principles he utilizes in his artwork.
Wednesday, July 26 2017 10 a.m. to noon, 1-3 p.m.
Fee for this class: $10 per session or $20 for the day for Arts Center members; $15/$30 for non-members

Please note: There is an additional fee for materials to be paid directly to the instructor of $10 per student.
Fees for materials may vary as much as $50 per person.
Students should bring their own lunches.

Birdhouse Gourd Class with Mary Vianese


Starting with a kettle gourd, all ready pre-drilled and cleaned inside and out, the class will learn how to create an attractive, functional birdhouse. First participants will burn their designs into the gourds. They will next mask the design, then using gourd dye, will color the gourd. Finally, to enhance and preserve the dyes, the gourd will be sprayed with a clear marine varnish. All materials will be provided, but if you have your own burning tool, please bring it.

Saturday, August 5, 2017 from 10 a.m. to 3 p.m.
Fee for this class: $50 for Arts Center members; $60 for non-members
Class fee includes all special materials and instruction. Feel free to bring your own lunch!

Limit is 10 participants for this class, so reserve your space early!